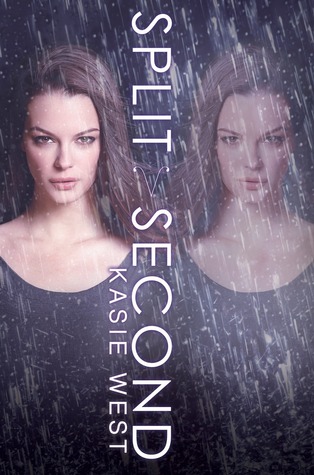 Split Second (Pivot Point #2)  by Kasie West
Publication Date: February 11, 2014
Publisher: HarperTeen
Synopsis:
In Pivot Point, Addison Coleman was forced to choose between living with her mother in the Compound or her father in the normal world. After Searching for the best potential future, Addie chose to stay with her mom. She can't believe she chose to stay because this future seriously sucks.
First, her boyfriend used her. Then, her best friend betrayed her. Now, she's the object of the entire high school's gossip. Things really couldn't get any worse.  Luckily, Addie's going to get a break from it all when she visits her dad for the winter break. She's hoping everyone will have forgotten her relationship with Duke by the time she returns.
After just a couple of days in Dallas, Addie meets this guy, Trevor. He's cute, but she can't help but wonder why she's so attracted to him. It's almost like she's met him before. Addie wants Trevor to like her, too, but it seems like he has something against her.
Back home, Leila can't help herself and opens the letter Addie gave her before she wiped her memory. Leila needs to learn how to restore memories. She's not sure how to do that, so she enlists the help of a guy named Connor.
As Addie starts to get to know Trevor, the normal and Compound world start to collide. Leila and Addie are doing everything to they can to get Addie's memories back, but someone may not want that to happen.
My rating: 5 out of 5 stars
Split Second was an awesome follow up to Pivot Point. It was the same, yet different. Instead of alternating between two potential futures like Pivot Point does, it alternates between Addie and Leila's POV. When I started reading, I was wondering if I was going to like that. I didn't really care for Leila in the first book. She didn't seem like a very good friend by the end. Leila totally redeemed herself in Split Second. What she was willing to do for her best friend was awesome. I also liked seeing more of her relationship with her family. And I loved her interactions with Connor. He was a really great addition to this story.
Reading Addie's one POV was so much easier in Split Second than it was reading two of them in Pivot Point. I got the Addie I liked in this one. Which was weird considering she picked the potential future I didn't enjoy reading the first time. It was fun to see how she dealt with meeting Trevor again. I do wish I got a little more Trevor in this book, though. He was such a great character in the first book.
As for the storyline, Split Second was just as interesting as Pivot Point. It started right where Pivot Point left off and kept going. It was faster paced than the first book, but I think that was because you weren't alternating between potential futures. I honestly couldn't put it down. I absolutely loved it. I would highly recommend reading it if you liked all or parts of Pivot Point.
Other books in the series: