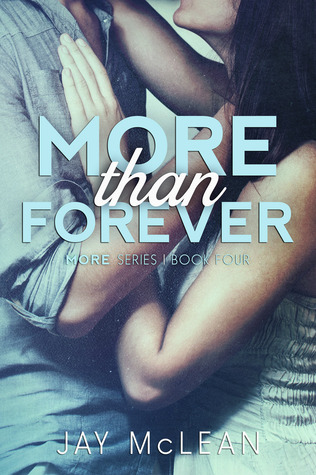 More Than Forever (More Than #4) by Jay McLean
Publication Date: July 11, 2014
Synopsis:
Lucy and Cameron have been it for each other since they were fourteen. Their love  has never wavered. It's always been about forever for them. But, sometimes, forever isn't enough.
My rating: 5 out of 5 stars
More Than Forever started out as a cute coming of age romance. It was more along the lines of a sweet YA contemporary romance. Cameron was the perfect friend and boyfriend that would do anything for Lucy. I loved the interactions between the young lovebirds and their parents. They were so funny and adorable.
Then, slowly, Lucy and Cameron's relationship matured along with them and More Than Forever  became a beautiful New Adult romance. While it was still sweet and incredibly funny, there was now the angst and a sexual relationship as well.
Lucy and Cam's sexual relationship was one of my favorite parts of the story. In the beginning, it felt honest and true to real life. As time went by, it was sexy and funny — just like it was reading about them in previous books.
As for the angst, at times I wanted to yell at Cam for being so blind and at Lucy for not truly seeing Cam. I ached for them as they dealt with the problems they faced. I wanted them to make it. The love they shared was so special.
Obviously, I loved More Than Forever. I thought More Than This was my favorite in the series, but More Than Forever stole its place in my heart. It was sweet, funny, steamy and most of all emotionally loaded.
I would highly suggest reading More Than Forever and the entire More Than series. I loved the way all of the books tied together and that I got to see not just the romances bloom but the friendships as well. I can't wait for the next book More Than Enough to come out. I hope it's Heidi and Dylan's story!
Other books in this series: