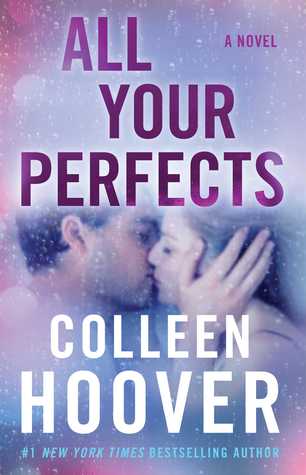 All Your Perfects
Author: Colleen Hoover
Publication Date: July 17, 2018
Publisher: Atria Books
Genre: Contemporary Romance, Fiction
Rating: ★ ★ ★ ★ ½

Synopsis:
Colleen Hoover delivers a tour de force novel about a troubled marriage and the one old forgotten promise that might be able to save it.

Quinn and Graham's perfect love is threatened by their imperfect marriage. The memories, mistakes, and secrets that they have built up over the years are now tearing them apart. The one thing that could save them might also be the very thing that pushes their marriage beyond the point of repair.

All Your Perfects is a profound novel about a damaged couple whose potential future hinges on promises made in the past. This is a heartbreaking page-turner that asks: Can a resounding love with a perfect beginning survive a lifetime between two imperfect people?
---
All Your Perfects is an emotional journey through a marriage on the brink of collapse. It's split into two parts: the past and the present. These two time frames aren't split into part one and part two, but alternate every other chapter. As Quinn and Graham meet and fall in love in the past, their relationship is splintering and falling apart in the present due to infertility. Quinn and Graham will have to decide if the foundation they built in the past is enough to save their future together.
Oh, man. This book. It made me feel so many, many things. It was completely frustrating to feel Quinn and Graham's love for each other blossom in one chapter and then immediately after feel their despair in another. The ups and downs took a toll on me emotionally. If another author had written this story, I might not have liked it. Colleen Hoover worked her magic. All Your Perfects had the same vibe as some of her earlier books. That's the only way I can think to describe it. All the ups and downs led to something magical, something I am not sure many authors could pull off successfully and not make me hate them.
I've never dealt with infertility. I can only imagine how utterly devastating it would be. I've never dealt with a marriage in crisis. I don't even want to think about how horrible that would be. Even though I've never dealt with either of these things, I did take away something important from All Your Perfects: communication. My relationship with my husband may be easy, but that doesn't mean I can't do a better job communicating my thoughts and feelings with him. This book was a good reminder that people can't read minds and it's important to keep an open path of communication with those you love.
Despite being put through an emotional wringer, I ended up truly loving the experience that Colleen Hoover gave me in All Your Perfects. I think so many people (and their relationships) are going to be impacted by this book. It's definitely worth reading.