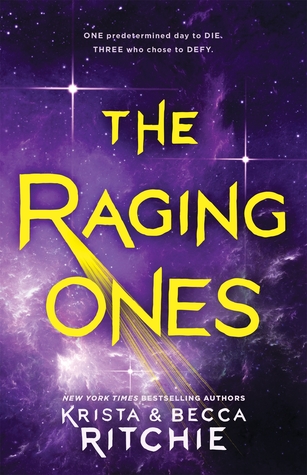 The Raging Ones
Series: The Raging Ones, #1
Authors: Krista & Becca Ritchie
Publication Date: August 14, 2018
Publisher: Wednesday Books
Genre: YA, Science Fiction, Fantasy
Note: This review is for an ARC and is my unbiased opinion.
Rating: ★ ★ ★ ★ ★
Synopsis:
In a freezing world, where everyone knows the day they will die, three teens break all odds.

Franny Bluecastle, a tough city teen, dreams of dying in opulence, to see wealth she's never known. Like the entire world, she believes it's impossible to dodge a deathday.

Until the day she does.

Court Icecastle knows wealth. He also knows pain. Spending five years in Vorkter Prison, a fortress of ice and suffering, he dreams of life beyond the people that haunt him and the world that imprisoned him.

Mykal Kickfall fights for those he loves. The rugged Hinterlander shares a frustrating yet unbreakable connection with Court—which only grows more lawless and chaotic as their senses and emotions connect with Franny.

With the threat of people learning they've dodged their deathdays, they must flee their planet to survive. But to do so, all three will have to hide their shared bond as they vie for a highly sought after spot in the newest mission to space. Against thousands of people far smarter, who'll live longer, and never fear death the way that they do.
---
I requested The Raging Ones from NetGalley solely because it was written by Krista and Becca Ritchie. I didn't even read the blurb. If I had, I might not have requested it. I'm not a science fiction or fantasy fan. I try to avoid books in those genres. I'm happy I didn't read that blurb because I would have missed out on something wonderful. Krista and Becca Ritchie may be known in the contemporary romance world, but they're taking the YA science fiction world by storm with The Raging Ones.
The writing in this book was exceptional. I wasn't overwhelmed by the science and fantasy details of the story. I was immediately pulled in and engaged with the setting and characters. I loved the plot. It was so different from anything I've read before. I adored Franny, Mykel, and Court. They had such a special connection and how it was woven through the story was so cool. The supporting characters were all very interesting and had important roles to play.
I loved everything about The Raging Ones. If I could have stayed up any later, I would have read this book in one day. It was that fascinating to me. I loved how the action built. The ending — well, let's just say I didn't see that coming. It was perfect! I cannot wait to read the next book in this series! Bravo, Ritchie twins!