Creole Kingpin
Series: Magnolia Duet, #1
Author: Meghan March
Publication Date: March 10, 2020
Genre: Contemporary Romance
Note: This review is for an ARC and is my unbiased opinion.
Rating: ★ ★ ★ ★ ★
Synopsis:
New York Times bestselling author Meghan March goes back to New Orleans and the world of Lachlan Mount with a dangerous and bold new anti-hero.
The thing about ghosts is they're supposed to stay dead.
That's exactly what I am, but I can't stay away from Magnolia Marie Maison for one more day, let alone another year.
We've already got fifteen of those between us.
As it stands, she'll want to kill me as soon as she lays eyes on me. And knowing her, she's completely up to the task.
But I'm a man on a mission, and I've got everything riding on this.
So, here I come, Magnolia. This ghost is ready for whatever you got.
After all, there's only one way I want this to end—'til death do us part.
---
I don't know how Meghan March does it. Each book and series better than the last. From beginning to end, Creole Kingpin had me transfixed. I loved being back in March's New Orleans setting with Magnolia, I character who has intrigued me from the minute I learned her name. Add in Moses, the villain from the Legend Trilogy who I wasn't exactly a fan of, and things were crazy good.
Magnolia had a rough and not exactly lawful past life. She is ready to leave it all behind. Her navigation out of that world and the resurrection of Moses in her life was so much fun to read about. Add in a little dangerous mystery, and Creole Kingpin was the best kind of ride.
I would leave my review at that, but I HAVE to mention Moses some more. I didn't think I could love him based on his relationship with Legend. I did, though… His relationship with Magnolia made me see him in a completely new way. I loved it.
So… This is a duet. You know what that means in a Meghan March book, right? CLIFFHANGER. This one went a direction I wasn't expecting. It left me more curious than shocked, and I'm dying to know what's going to be revealed in Madam Temptress.

Creole Kingpin is the first book in the Magnolia Duet. Magnolia's story concludes in
Madam Temptress
releasing April 14, 2020.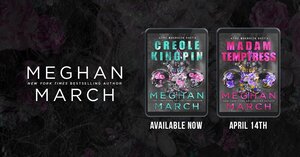 Add to your Goodreads TBR:
Where to buy:
https://meghanmarch.com/creole-kingpin
Amazon: mybook.to/creolekingpin
Apple Books: http://bit.ly/CreoleKingpinApple
B&N: http://bit.ly/CreoleKingpinBN
Kobo: http://bit.ly/CreoleKingpinKobo
Google Play: http://bit.ly/CreoleKingpinGP
About the author:
Making the jump from corporate lawyer to romance author was a leap of faith that New York Times, #1 Wall Street Journal, and USA Today bestselling author Meghan March will never regret. With over thirty titles published, she has sold millions of books in nearly a dozen languages to fellow romance-lovers around the world. A nomad at heart, she can currently be found in the woods of the Pacific Northwest, living her happily ever after with her real-life alpha hero.
Sign up for Meghan's newsletter and receive exclusive content that she saves for her subscribers: http://meghanmarch.com/subscribe
To get the inside scoop on a daily basis, search Meghan March's Runaway Readers on Facebook and join the fun!
FACEBOOK | WEBSITE | INSTAGRAM | AMAZON AUTHOR PAGE | TWITTER | BOOKBUB