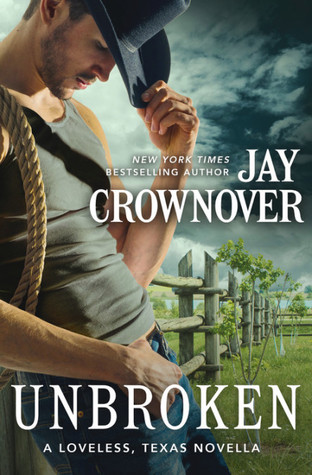 Unbroken
Series: Loveless, Texas, #0.5
Author: Jay Crownover
Publication Date: May 14, 2019
Publisher: Forever Yours
Genre: Contemporary Romance
Note: This review is for an ARC and is my unbiased opinion.
Rating: ★ ★ ★ ★
Synopsis:
From the New York Times bestselling author of the Marked Men series comes a captivating novella about a rugged rodeo star who will do anything to protect the people he loves.

When rodeo star Crew Lawton loses everything in a bad bet, he has no choice but to take a new job to pay off his debts – even if it means becoming the face of an expensive male skincare line. Crew is used to getting sweaty and rustling in the dirt, not posing for photo shoots. And he's certainly not used to being bossed around by a woman who doesn't even know the difference between bulls and broncs. But Crew owes money to dangerous criminals, and he'll do anything Della says in order to pay them back and keep them far away from his family in Loveless, Texas…

The launch of her new men's line for her family's company means everything to Della Deveaux, and she's not willing to let some rugged, arrogant cowboy ruin her campaign. Crew Lawton is the last man she would have chosen to represent her chic, sophisticated brand. Unfortunately, her father already invested millions in Crew's stupidly handsome face. Yet the more time they spend together, Della and Crew realize that opposites do attract. But when the time comes for Crew to face his past mistakes, will he be able to protect his family…and the woman he's come to love?
My thoughts:
Unbroken was a really fun way to begin a new series. Crew and Della were complete opposites and I liked what that effect that had on the story and their relationship. There were so many great little moments between them. I'm a little sad this was just a novella because I could have read an entire book about Crew and Della. Unbroken made me excited for what's to come in Loveless, Texas.
Becoming
Author: Michelle Obama
Narrator: Michelle Obama
Publication Date: November 13, 2018
Publisher: Random House Audio
Genre: Memoir

Rating: ★ ★ ★ ★ ★
Synopsis:
An intimate, powerful, and inspiring memoir by the former First Lady of the United States.

In a life filled with meaning and accomplishment, Michelle Obama has emerged as one of the most iconic and compelling women of our era. As First Lady of the United States of America—the first African-American to serve in that role—she helped create the most welcoming and inclusive White House in history, while also establishing herself as a powerful advocate for women and girls in the U.S. and around the world, dramatically changing the ways that families pursue healthier and more active lives, and standing with her husband as he led America through some of its most harrowing moments. Along the way, she showed us a few dance moves, crushed Carpool Karaoke, and raised two down-to-earth daughters under an unforgiving media glare.

In her memoir, a work of deep reflection and mesmerizing storytelling, Michelle Obama invites readers into her world, chronicling the experiences that have shaped her—from her childhood on the South Side of Chicago to her years as an executive balancing the demands of motherhood and work, to her time spent at the world's most famous address. With unerring honesty and lively wit, she describes her triumphs and her disappointments, both public and private, telling her full story as she has lived it—in her own words and on her own terms. Warm, wise, and revelatory, Becoming is the deeply personal reckoning of a woman of soul and substance who has steadily defied expectations—and whose story inspires us to do the same.
My thoughts:
At first, I was intimidated by the almost 20 hours of listening Becoming is. I shouldn't have been. Listening to Michelle Obama tell her life story was so interesting. I loved hearing about her youth, her relationship with President Obama, and everything she went through in the White House. I am even more impressed with her now. This book is definitely worth a listen or read. Michelle Obama is very inspiring.