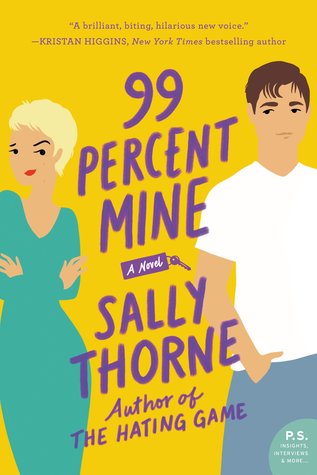 99 Percent Mine
Author: Sally Thorne
Publication Date: January 29, 2019
Publisher: William Morrow Paperbacks
Genre: Contemporary Romance
Rating: ★ ★ ★
Synopsis:
Crush: a strong and often short-lived infatuation, particularly for someone beyond your reach…

Darcy Barrett has undertaken a global survey of men. She's travelled the world, and can categorically say that no one measures up to Tom Valeska, whose only flaw is that Darcy's twin brother Jamie saw him first and claimed him forever as his best friend. Despite Darcy's best efforts, Tom's off limits and loyal to her brother, 99%. That's the problem with finding her dream man at age eight and peaking in her photography career at age twenty—ever since, she's had to learn to settle for good enough.

When Darcy and Jamie inherit a tumble-down cottage from their grandmother, they're left with strict instructions to bring it back to its former glory and sell the property. Darcy plans to be in an aisle seat halfway across the ocean as soon as the renovations start, but before she can cut and run, she finds a familiar face on her porch: house-flipper extraordinaire Tom's arrived, he's bearing power tools, and he's single for the first time in almost a decade.

Suddenly Darcy's considering sticking around to make sure her twin doesn't ruin the cottage's inherent magic with his penchant for grey and chrome. She's definitely not staying because of her new business partner's tight t-shirts, or that perfect face that's inspiring her to pick up her camera again. Soon sparks are flying—and it's not the faulty wiring. It turns out one percent of Tom's heart might not be enough for Darcy anymore. This time around, she's switching things up. She's going to make Tom Valeska 99 percent hers.
---
99 Percent Mine was one of my most anticipated releases of 2019. I read Sally Thorne's The Hating Game last year and adored it. I was bummed when I started reading a lot of reviews saying this book didn't even compare to The Hating Game. Despite the negative hype, I decided to read 99 Percent Mine anyways.
I have to admit that 99 Percent Mine didn't start off in the best way. Darcy, the main character, rubbed me the wrong way immediately. The vibe she gave off was not a good one. Darcy's very brash and bitter. It was hard to connect to her for a large part of the story because her motivations are completely unclear. Even when they are, they seem juvenile. She always seems to be punishing herself in negative ways.
When Tom, Darcy's childhood friend, shows up things start to get even more confusing. I don't understand the dynamic between them. There's not really much to tell me what happened between them in the past. It takes a while to learn that information, and when I finally do, I have no clue why Tom is attracted to prickly Darcy. He is this nice, quiet guy. If Darcy is a jalapeno pepper, Tom is milk.
Another negative factor in 99 Percent Mine is Jamie. Jamie is Darcy's twin brother. He's a complete jerk. He is so horrible. Darcy acts like he's the better person, but he's not. Jamie makes Darcy look less bitter and I actually felt bad for her when it came to him.
The entire first half of this book was filled with negative emotions and characters. I wasn't having a great time reading, but I was curious enough to find out what made these characters tick. I'm glad I kept reading because the second half of the book was much better than the first.
I was surprised to find Darcy growing on me. I think that can be attributed to the revelations about her life, her illness, and her friendships. Once I understood her, she became more palatable. I wish some of the information would have been revealed early on. I also found myself liking Tom and Darcy's dynamic. I could finally see what drew them to each other. I loved Darcy's friendship with Truly and would have liked seeing more than that. I even, at the very end, started to like Jamie.
99 Percent Mine started out rough, but it ended up winning me over in the end. It wasn't my favorite book, but I didn't hate it. It's one that if you push through the awkward, uncomfortable beginning, you will find a sweet love story and a TON of character growth. My advice going into reading it would be to go in with lower expectations (if you have read The Hating Game) and not give up on it too soon.