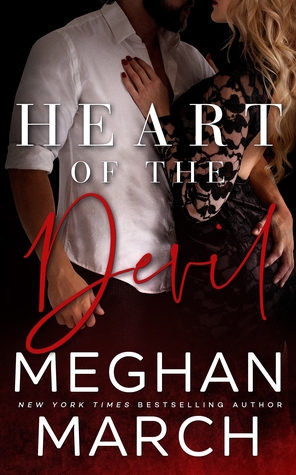 Heart of the Devil
Series: Forge Trilogy, #3
Author: Meghan March
Publication Date: March 12, 2019
Publisher: Red Dress Press
Genre: Contemporary Romance, Romantic Suspense
Note: This review is for an ARC and is my unbiased opinion.
Rating: ★ ★ ★ ★ ★
Synopsis:
From New York Times bestselling author Meghan March comes the stunning conclusion to the Forge Trilogy. In this final volume, ruthless billionaire Jericho Forge faces his toughest challenge. To emerge victorious, he'll have to give up the one thing he's never offered a woman—his heart.

It started as a game. She was nothing but my pawn.

But I was quick to see the error in my ways, and now she is everything I never knew I needed.

The value of a woman like India Baptiste is beyond measure.

But the problem with being a man like me? I've already screwed this up, and there's no guarantee India will take me on for one last bet.

I'll do whatever I have to do. Drop to my knees and offer her the only thing I have left. The one thing that's only ever been hers—the heart of the devil.
Woohoo! What a conclusion to an explosive trilogy! Heart of the Devil exceeded every expectation I had for it. It kept me on my toes at all times. I didn't know who to suspect or believe. I was shocked and awed by so many of the revelations that kept coming throughout the entire book. Ms. March couldn't have written a better ending for Jericho and Indy's epic romance. I loved every minute of it!
Purchase Now: http://meghanmarch.com/book/heart-of-the-devil/
All about Meghan March
Making the jump from corporate lawyer to romance author was a leap of faith that New York Times, #1 Wall Street Journal, and USA Today bestselling author Meghan March will never regret. With over thirty titles published, she has sold millions of books in nearly a dozen languages to fellow romance-lovers around the world. A nomad at heart, she can currently be found in the woods of the Pacific Northwest, living her happily ever after with her real-life alpha hero.
Facebook | Twitter | Instagram | Newsletter
Rafflecopter Giveaway

Meghan March is giving away a set of signed paperbacks for the complete Forge Trilogy. Three Winners!