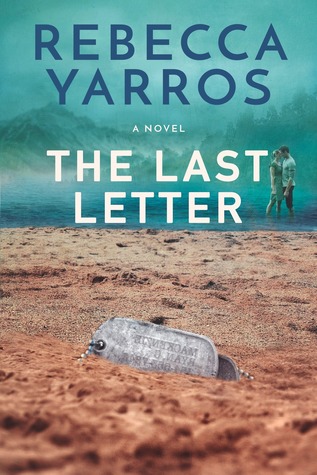 The Last Letter
Author: Rebecca Yarros
Publication Date: February 26, 2018
Publisher: Entangled: Amara
Genre: Contemporary Romance, Fiction
Note: This review is for an ARC and is my unbiased opinion.
Rating: ★ ★ ★ ★ ½

Synopsis:
Beckett,

If you're reading this, well, you know the last-letter drill. You made it. I didn't. Get off the guilt train, because I know if there was any chance you could have saved me, you would have.

I need one thing from you: get out of the army and get to Telluride.

My little sister Ella's raising the twins alone. She's too independent and won't accept help easily, but she has lost our grandmother, our parents, and now me. It's too much for anyone to endure. It's not fair.

And here's the kicker: there's something else you don't know that's tearing her family apart. She's going to need help.

So if I'm gone, that means I can't be there for Ella. I can't help them through this. But you can. So I'm begging you, as my best friend, go take care of my sister, my family.

Please don't make her go through it alone.

Ryan
---
So…I have found another favorite new-to-me author. Rebecca Yarros has me wanting to go back and read her backlist like now because The Last Letter was so, so good. I can't even begin to do it justice with this review, so I am going to bullet point my likes and dislikes.
What I liked:
The letters. They start out each chapter and are perfectly tailored to the story and how it evolves.
The writing. It caught my attention from the beginning and never let go. Like I said above, Rebeca Yarros is new to me and I instantly connected to the way she puts words together. Every sentence is packed with emotion.
The plot. I won't go into it too much, but it's way more than what you read in that blurb. It was the perfect mixture or heartwarming and heartbreaking. Every moment had a purpose.
Ella's children were so darn cute. Colt and Maisie were twins and their bond was too special. They also added something extra sweet to Ella and Beckett's relationship.
Beckett Gentry. He had his moments of stupidity, but I loved his character.
I could go on and on, but I have to stop listing things because I would just give away the entire story.
What I disliked:
I didn't connect as much as I would have liked to with Ella. I understood her reasoning for the way she acted, but her trust issues were almost too much for me at times. Especially towards the end.
Beckett's moments of stupidity when he kept keeping that dang secret.
An event toward the end. I can't say what it is, but I was sad the story went there. I get it, but that doesn't mean I have to like it.
Overall, The Last Letter was a really great book. It was a romance, but it was more than just a romance. It was a touching story about family, love, war, and life. Despite my few dislikes, I thought it was brilliant.