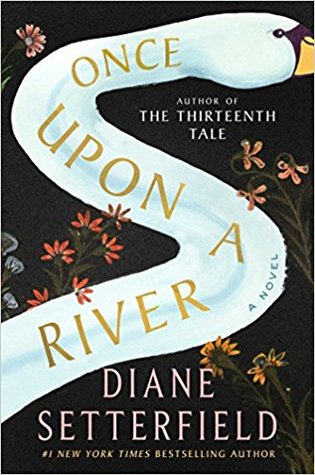 Once Upon a River
Author: Diane Setterfield
Publication Date: December 4, 2018
Publisher: Atria/Emily Bestler Books
Genre: Fiction, Fantasy, Historical
Note: This review is for an ARC and is my unbiased opinion.
Rating: ★ ★ ★ ★
Synopsis:
A dark midwinter's night in an ancient inn on the Thames. The regulars are entertaining themselves by telling stories when the door bursts open on an injured stranger. In his arms is the drowned corpse of a little child.

Hours later the dead girl stirs, takes a breath and returns to life.

Is it a miracle?

Is it magic?

Or can it be explained by science?

Replete with folklore, suspense and romance, as well as with the urgent scientific curiosity of the Darwinian age, Once Upon a River is as richly atmospheric as Setterfield's bestseller The Thirteenth Tale.
---
Once Upon a River is not the typical book I would read. It's a historical fantasy that's highly character driven. The reason I picked it up is because of my love for Diane Setterfield's first book, The Thirteenth Tale. While this book didn't quite reach my love for that book, I still found it an interesting and engaging read.
Once Upon a River feels like reading a folktale. It's set along the Thames river, and revolves around the mystery of a girl who is plucked from the river. At first, she seems to be dead. Then, she is alive. More than one person claims she is theirs. No one really knows what to make of it all. It's a giant mystery that slowly unravels through multiple points of view over time.
To be honest, it took me a few chapters to really get into this book and it's story. There is a lot of detail and many characters to follow. Once I was invested in the story and the mystery of the little girl, I was hooked. I wanted to know what happened to her and what part all of the people played. I won't go into the plot more because I don't want to give anything away, but I was impressed by the outcome and the revelations. I had some ideas of what had happened, but very few of them were true. Once Upon a River ended up surprising me and I loved that!
I feel like I need to point out that this is a story that builds gradually over many pages. At 480 pages long, Once Upon a River is not a short book. It's slower paced and takes a while to build momentum. While some might shy away from reading it for those reasons, I actually found myself liking how it built and the time it took to tie everything together. That's not something I normally say, as I like faster paced reading experiences. Overall, Once Upon a River was a well written and plotted book.