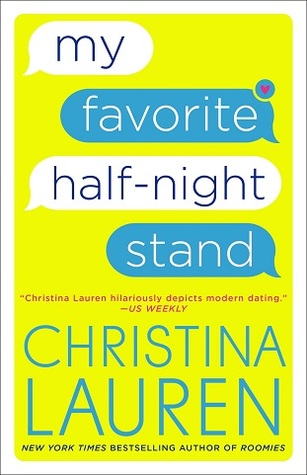 My Favorite Half-Night Stand
Author: Christina Lauren
Publication Date: December 4, 2018
Publisher: Gallery Books
Genre: Contemporary Romance, Fiction
Note: This review is for an ARC and is my unbiased opinion.
Rating: ★ ★ ★ ★
Synopsis:
From the New York Times bestselling author that "hilariously depicts modern dating" (Us Weekly) comes a sexy romantic comedy about online dating, and its many, many fails.

With a world-famous speaker at their university, Millie Morris and her four woefully single male colleagues make a pact that they'll all find dates. Unfortunately, Millie has more success helping them make matches online than she does navigating the onslaught of lewd pics in her own feed. But when she creates a fictional name for a new account, Millie finds herself vying for the online attention of a man she sees every day in the flesh.
---
2018 has been a great year for Christina Lauren. They have graced readers with the emotionally gripping Love & Other Words and the hilariously entertaining Josh and Hazel's Guide to Not Dating. Now they are releasing their third book of the year, My Favorite Half-Night Stand.
My Favorite Half-Night Stand had a lot to live up to after the two completely different and amazing books Christina Lauren released earlier this year. To be completely honest, it wasn't as good as Love & Other Words or Josh and Hazel's Guide to Not Dating. I'm not saying that to drag My Favorite Half-Night Stand. It was still a great book. There were just some things that drove me a little batty at times.
The story starts off with the reader getting to know five friends and co-workers: Millie, Reid, Chris, Alex and Ed. Millie is the only girl in the group of guys, and she's never thought of having anything, but a platonic relationship with any of the guys…until that one night when suddenly she's noticing things about Reid she hasn't noticed before. Just when Millie is considering new feelings for Reid, the group decides to sign up together for online dating. As they create profiles and being receiving matches Millie, Millie decides to create an account with a fake name. She's immediately matched with Reid under her new persona. Unsure of how to proceed, not-Millie sends Reid a message and what follows could be a reality television show.
Let me start out with my favorite thing about My Favorite Half-Night Stand. I adored the friendships. They were so special. Millie and the guys had this amazing camaraderie and support system going. I loved how they played off each other. I honestly could read a separate book about each and every one of them. I was kind of sad that I only got Millie and Reid's story because I wanted to know more about all of them.
Another thing I loved about this book was that it was written in dual point of view. I loved being able to see what was going on in both Reid and Millie's heads at different times. I think if I only had Millie's perspective, I would have been angry a lot of the book.
Okay, I have to deviate from what I liked to what I didn't like after mentioning Millie's POV. Millie drove me batty. I couldn't believe for someone so smart she made such a horribly mean decision. She deserved what ended up happening to her relationship with Reid and her friends. I understand why she did what she did, but I didn't like it. I didn't really like her…until the end. Once she finally let all those bottled up emotions out and became real, I loved her. I wish I would have loved her the entire time.
Back to things I loved! REID! The guy was amazing. He had patience of a saint when it came to Millie. I was surprised given how emotionally in touch he was that he was okay taking what Millie would give him for as long as he did. I loved reading his thoughts and his online dating communications. He was the main star in this book for me — quickly followed by all of his friends.
I want to keep gushing about the friendships in this book! Partly because I love them, party because without them this book might have tanked for me in the middle when Millie was being dumb. I'm really happy they helped carry that middle because I absolutely adored the end of My Favorite Half-Night Stand. It was so sweet and vulnerable. It pretty much made me forget how irritated I was with the decisions Millie made before it and made me like her. The ending brought the story full circle in the best way possible.
So while My Favorite Half-Night Stand wasn't a Love & Other Words or a Josh and Hazel's Guide to Not Dating, it was a good romance with some of the best side characters I have read in a long time. It is worth reading simply for the friendship aspect.