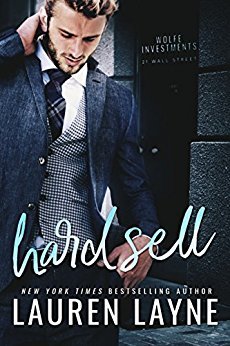 Hard Sell
Series: 21 Wall Street, #2
Author: Lauren Layne
Publication Date: September 4, 2018
Publisher: Montlake Romance
Genre: Contemporary Romance, Fiction
Note: This review is for an ARC and is my unbiased opinion.
Rating: ★ ★ ★ ★ ½
Synopsis:
He's a Wall Street wolf. She's been hired to tame him. From New York Times bestselling author Lauren Layne comes a wildly sexy novel of business and pleasure.

Twenty-eight and filthy rich, Matt Cannon is the youngest broker on Wall Street. He may be a "boy wonder," but he's every inch a man. Ask any woman—any night. But when Matt's latest fling makes scandalous headlines, his clients get anxious, and his bosses at Wolfe Investments level an ultimatum: keep his assets zipped, get a "real" girlfriend, and clean up his act. Only one woman can help Matt with something this hard.

For PR genius Sabrina Cross, the best fixer in Manhattan, playing Matt's steady is going to be a challenge, even if it's just for show. They already have an explosive history, she can't stand the cocky party boy, and worse—she can't stop thinking about him. So who'll dare to break her "no touching" rule first? Because when that happens, Matt and Sabrina's game of let's pretend will get so hot it could set both their reputations on fire.
---
Any time Lauren Layne releases a new book, I always have to read it. She's never let me down. Her writing is always fun, witty, and engrossing. Once I start one of her books, I don't want to put it down. That's how I felt about the second book in the 21 Wall Street series, Hard Sell.
Hard Sell was a frenemies to lovers / fake relationship romance. Matt and Sabrina have a sordid past. They share a best friend and some nights they don't want to admit to. Matt and Sabrina's lives are tied together, and become even more so, when Matt needs Sabrina's help to save his image. Sabrina agrees to be Matt's fake girlfriend as long as they keep things strictly platonic. Matt agrees, but that's easier said than done for both of them.
I simply adored Hard Sell. It had some of the wittiest dialog I've read in a while. Matt and Sabrina really knew how to banter with each other. I loved the love-hate thing they had going on. I loved it even more when their relationship took a turn toward romance.
Matt and Sabrina were such great characters.They had more in common than they thought. Both were strong, stubborn characters. They were influenced by their upbringings and parents in different ways that led to similar results. I loved the resistance they both had to being in a relationship and marriage, and how their fake relationship with each other changed that.
It was hard for me to find any faults with Hard Sell. I only found myself wanting more. I really would have liked to have learned more about how Sabrina got to where she was in her job. That was probably the only piece missing for me. Well, I wouldn't have minded a longer ending. That's just because I didn't want the story to end, though. I'm very thankful Kennedy and Kate still have a book coming in this series. At least I have another Lauren Layne contemporary romance to wait for!