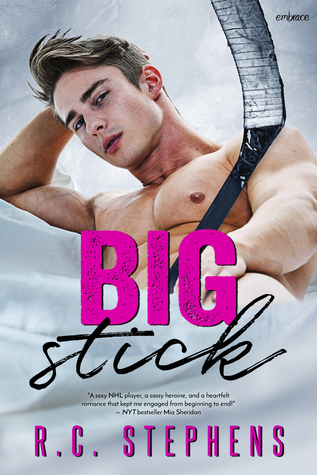 Big Stick
Author: R.C. Stephens
Publication Date: September 17, 2018
Publisher: Entangled Publishing LLC
Genre: Contemporary Romance, Fiction, New Adult, Sports
Note: This review is for an ARC and is my unbiased opinion.
Rating: ★ ★ ★ ★
Synopsis:
Hockey is my life. And it's a great one. There's an endless line of women, and I get to hang with my best friend Oli. Everything is perfect until she shows up. Oli's twin sister, Flynn…hates my guts. I don't blame her. I'm part of one of the worst nights of her life.

Now she's next door and seeing her every day is killing me slowly. I wonder if we can ever get back to being friends. The way she looks at me sometimes, well, let's just say my hockey stick isn't the only thing that's feeling hard these days.

But if she finds out the secrets I'm keeping, forgiveness will be the last thing on her mind.
---
Big Stick is one of those books that caught my eye by the title and cover — but for reasons you wouldn't think. It wasn't the half-naked man or what "big stick" could possibly be. I am a sports romances. Hockey romances are usually very well done. I learn a little more about the sport each time and get to fall in love with (normally) a cute couple. So when I saw the title Big Stick and the hockey stick, I clicked "request" on NetGalley. I'm really glad I did.
Big Stick was not just a hockey romance. It was also a second chance romance between childhood best friends. Flynn was a tomboy growing up. She hung out with her twin brother, Oli, and their best friend Myles constantly. As she got older, Flynn developed a major crush on Myles. Their friendship was dramatically severed in high school, and Flynn has been avoiding Myles for years. That all changes when Flynn is forced to move in next door to Myles.
I'm fairly new to R.C. Stephens writing. I enjoyed it a lot. It was fast-paced and easy to relate to. I appreciated that she included dual points of view. That gave me a good look into what her characters were thinking and feeling.
Myles and Flynn were fun characters. I liked the dynamic they had going on. They had great chemistry. It wasn't quite a hate to love thing, but close. Flynn feelings were all over the place, and I loved her hesitation to renew her friendship with Myles. Myles desperately wanted to have Flynn's friendship and possibly more back, and wasn't going to let everything that happened in the past keep him from her anymore. It was sweet and frustrating in the best way to watch them dance around each other.
I had one problem with Big Stick. It was so over dramatic at times. Some heavy stuff had happened to Myles and Flynn. I got that and I understood why their relationship was they way it was. What I didn't quite get was the reaction Flynn had to Myles' big secret. Honestly, I was shocked at how affected Flynn was by it at this point. It just seemed like she was reacting to the same thing over and over again even though it wasn't exactly the same. That was really just a small part of this story, though. It didn't take away my enjoyment of Flynn and Myles' story.
The weird thing about Big Stick was my favorite thing about it. I adored Flynn's best friend and brother. They kind of stole the show for me. I actually found myself more interested in them than Myles and Flynn by the end of the book. I'm really hoping there's going to be a second book about them. Sign me up to read that one now!
Overall, Big Stick was a great contemporary sports romance. Fans of that genre are sure to enjoy this book.