Welcome to Top Ten Tuesday!

Top Ten Tuesday is an original weekly feature created by The Broke and the Bookish and is now hosted by That Artsy Reader Girl. This week's is Books to Pull You Out of a Reading Slump.
To be honest, I didn't feel like doing this topic. It would just be a list of some of my favorite books that you've probably seen a million times on my TTT lists. Instead, I'm hyping Ten Celebrity Memoirs Worth Reading.
---
1. Scrappy Little Nobody
by Anna Kendrick
If you like Anna Kendrick in movies, you're going to love her in real life. Her stories about growing up on Broadway and making it to Hollywood are fun and funny.
2. Yes, My Accent is Real: and Some Other Things I Haven't Told You
by Kunal Nayyar
Yes, My Accent is Real is humorous and fun to read. It's filled with interesting and heartwarming stories of Kunal Nayyar's past. My favorite stories were about his college years in Portland, Oregon and how he got his big break.
3. Is Everyone Hanging Out Without Me?
by Mindy Kaling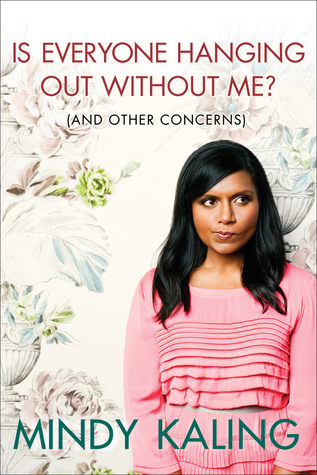 Is Everyone Hanging Out Without Me? sounds like it is directly coming out of Mindy Kaling's mouth. I felt like we were girlfriends sitting around and she was telling me about her life, random things that have happened to her and her advice. The book is all about fun. It's not super deep or necessarily inspiring, but it will make you smile.
4. Why Not Me?
by Mindy Kaling
Why not spend more time with Mindy Kaling?
5. Between a Rock and a Heart Place: A Memoir
by Pat Benatar
I'm a big fan of music from the 1980's. I loved reading this memoir. It was like getting an inside look at the music scene at that time. I also loved learning more about Pat Benatar. I love her voice.
6. Baby Laughs: The Naked Truth About the First Year of Mommyhood
by Jenny McCarthy
If you've had a baby, you will appreciate this unapologetic look at what that first year is like.
7. Unqualified
by Ana Faris
Unqualified wasn't my favorite memoir, but that's just because a lot of it felt like an ode to Chris Pratt and they were already on their way to divorce when I read it. I did really like reading how she came to fame and about her son, though. Those chapters made it worth reading. I'm including it because I think if you like her, you'll like this book.