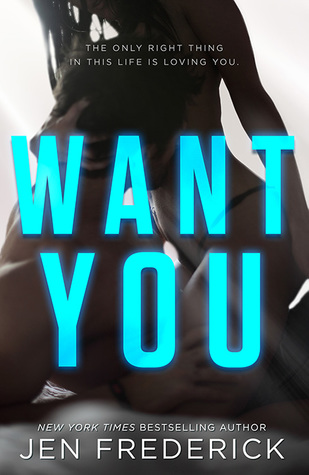 Want You
Author: Jen Frederick
Publication Date: July 1, 2018
Publisher: Pear Tree LLC
Genre: Contemporary Romance
Note: This review is for an ARC and is my unbiased opinion.
Rating: ★ ★ ★
Synopsis:
Bitsy: I might be only nineteen, but I know what I want. It's Leka Moore. I don't care that he took me in when he was barely more than a kid himself. I don't care that he raised me. I don't care everyone thinks being with him is wrong. I know we belong together, and the only person I need to convince is him.

Leka: I found her in the corner of a dark alley. If I hadn't taken her with me, she would've died that night—or maybe worse. Before I knew it, she became the light in my dark life, the haven from the madness. I watched her grow up. I tried to teach her right from wrong. Now that she's an adult, I'm feeling things that no good man should ever feel. But then…I've never been a good man. I have a chance at redemption by saving her from the greatest danger of all—me.
---
To be completely honest, I'm still not sure what I think about Want You. It wasn't what I was expecting at all. I knew it was going to be different from the other books I had read by Jen Frederick, but I had no idea it was going to be that different. For me, that wasn't necessarily a good thing. It wasn't bad, I just didn't connect with the characters or their story.
Want You is a book that builds slowly. I was expecting to jump right into the romance of the story. That didn't happen. It started with Leka and Bitsy's first meeting as children and slowly built over years.The first half of the book spanned thirteen years. Those years were violent and a little disturbing — mainly for Leka. Honestly, I wanted to hurry up and get to the romance part of things because the darkness was starting to drag me down. I needed some happy. The second half of the book wasn't the happy I was looking for. There were some moments of it, but the darkness continued.
Despite the darkness, it was an interesting story. I think I might have been more into it if I was into the romance. Leka and Bitsy's love for each other was understandable, but I had a hard time buying parts of it. I got her lusting after the boy/man who protected her all her life, but I didn't get how he lived his life prior to being with her. It was all so weird to me. It wasn't even the age difference. They were only like 7 years apart. I can't really even explain it without giving stuff away.
I know I'm not saying much about the story line. I don't want to ruin this book for anyone. I guess I'll just leave it at this: This wasn't the sweet and sexy read I'm used to by Frederick. Want You was dark and gritty. If you like dark, gritty, and forbidden then this book is for you. If you don't, skip it.