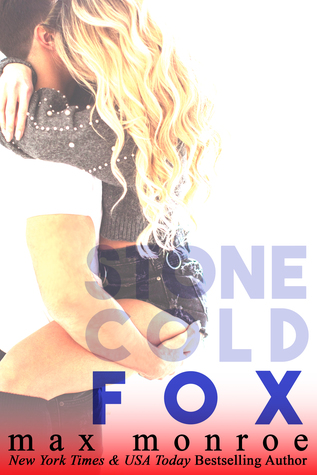 Fox
Series: Stone Cold Fox
Author: Max Monroe
Publication Date: April 22, 2018
Publisher: Max Monroe LLC
Genre: Contemporary Romance
Note: This review is for an ARC and is my unbiased opinion.
Rating: ★ ★ ★ ★ 
Synopsis:
Some things are meant to be; some aren't.

I never thought this would be my life.
I never believed I could feel this way.

I don't know where to go from here.
I never want to be anywhere else.

My whole world has changed.
She is my whole world.

I'm not sure how to be me again.
I've never felt more like myself.

I've never needed anyone, but I need him.
I love her. I'll always love her.

But is our love enough? Can Levi and I really survive this?
Together, Ivy and I can survive anything.

Disclaimer: Max Monroe's editor recommends readers purchase tissues in bulk prior to reading the deeply emotional and epic finale of the STONE COLD FOX Trilogy. Early readers have complained of the following symptoms: sobbing, happy tears, overwhelming elation, book hangovers, and the urge to re-read the entire STONE COLD FOX Trilogy after finishing FOX.
---
Every book in the Stone Cold Fox series has surprised me in some big way. Fox might have surprised me the most. That was partly because it was a very different type of book than the first two. Stone and Cold were mysteries, while Fox was a very emotionally heavy romance. Levi and Ivy, especially, were dealing with the fall out from the second book. They both knew nothing would ever be the same for them, and they were trying to come to terms with their new lives after tragedy. The first half of the book was heartbreaking to read, but it made the second half feel like one big, happy epilogue. While I missed the mystery aspect of the first two books, I adored the way Levi and Ivy's came full circle. Fox was a good way to end a great series.
PURCHASE FOX NOW:
Amazon US:  http://bit.ly/Fox_aa
Amazon UK: http://bit.ly/Fox_uk
Amazon AU: http://bit.ly/Fox_au
Amazon CA: http://bit.ly/Fox_ca
iBooks: http://bit.ly/Fox_iBooks
Kobo: http://bit.ly/Fox_Kobo
Nook:  http://bit.ly/Fox_Nook
GP: http://bit.ly/Fox_GP
**FOX will be available on all platforms for at least a full day before being removed from everything but Amazon and enrolled in Kindle Unlimited. We hope to give readers of all platforms a chance to grab it before making the move, but they definitely need to grab it early.
The first two books in the series, STONE & COLD, are now Free in KU!

STONE (Book #1) Amazon KU links
Amazon US: http://bit.ly/Stone_aa
Amazon UK: http://bit.ly/Stone_auk
Amazon AU: http://bit.ly/Stone_aau
Amazon CA: http://bit.ly/Stone_aca
COLD (Book #2) Amazon KU links
Amazon US:  http://bit.ly/Cold_aa
Amazon UK: http://bit.ly/Cold_uk
Amazon AU: http://bit.ly/Cold_au
Amazon CA: http://bit.ly/Cold_ca
STONE COLD FOX TRILOGY SPOTIFY PLAYLIST:  https://goo.gl/tcha9q