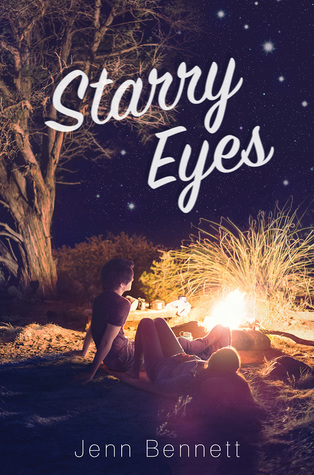 Starry Eyes
Author: Jenn Bennett
Publication Date: April 3, 2018
Publisher: Simon Pulse
Genre: Young Adult, Contemporary Romance
Rating: ★ ★ ★ ★ ★
Synopsis:
Ever since last year's homecoming dance, best friends-turned-best enemies Zorie and Lennon have made an art of avoiding each other. It doesn't hurt that their families are the modern-day, Californian version of the Montagues and Capulets.

But when a group camping trip goes south, Zorie and Lennon find themselves stranded in the wilderness. Alone. Together.

What could go wrong?

With no one but each other for company, Zorie and Lennon have no choice but to hash out their issues via witty jabs and insults as they try to make their way to safety. But fighting each other while also fighting off the forces of nature makes getting out of the woods in one piece less and less likely.

And as the two travel deeper into Northern California's rugged backcountry, secrets and hidden feelings surface. But can Zorie and Lennon's rekindled connection survive out in the real world? Or was it just a result of the fresh forest air and the magic of the twinkling stars?
---
If you're looking for the perfect summer YA contemporary romance, this is it. Starry Eyes had everything I look for in that category. Let me break it down for you.
The writing: Jenn Bennett's writing is amazing. I haven't found a book of hers I haven't loved yet. Each book she writes gets better and better. Starry Eyes is my new favorite of hers. I loved the whole Romeo and Juliet vibe it had going on.
Perfect summer setting: The whole glamping thing was hilarious. I want to glamp now so bad! I also loved the camping and hiking in the wilderness of Northern California. Lennon not only taught Zorie about a lot of things, he taught me too!
The characters: Zorie was a real girl with real problems. A lot of them were caused by avoidance and miscommunication, but that felt true to her age. I saw a lot of her in my younger self. Lennon cracked me up. His sense of humor and sarcasm made me smile.
Perfect summer romance: I loved the evolution of Zorie and Lennon's relationship. It was sweet in the way only childhood best friend to more can be. They went through a lot together and apart. It made their friendship/relationship stronger in the long run.
Real life problems: There were so many different friendship dramas in here, and I could see them playing out in real life. Popularity wasn't really a thing for either Lennon or Zorie, but you could see some of it in the side characters. The miscommunication could be trying at times, but it really fit well into Zorie's personality. I
Parents: can't leave out the parental units. They were some meddling parents, that's for sure. Zorie's dad took things to a whole new level. I haven't quite experienced that in YA before, but I liked it even though I didn't like him. Lots of parental drama, people.
Starry Eyes  was the perfect summer reading adventure. I loved every minute I "roughed it" with Zorie and Lennon. I was sad to finish it because I would have been happy to keep reading about them. I highly recommend reading Starry Eyes if you love fun summer YA contemporaries.