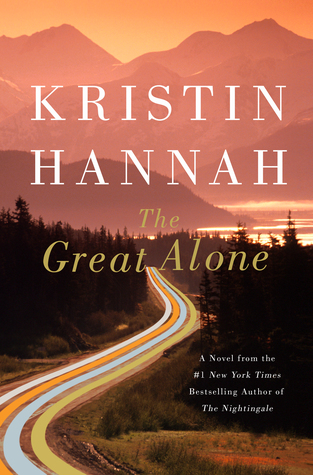 The Great Alone
Author: Kristin Hannah
Publication Date: February 6, 2018
Publisher: St. Martin's Press
Genre: Fiction, Historical
Note: This review is for an ARC and is my unbiased opinion.
Rating: ★ ★ ★ ★
Synopsis:
Alaska, 1974. Untamed. Unpredictable. A story of a family in crisis struggling to survive at the edge of the world, it is also a story of young and enduring love.

Cora Allbright and her husband Ernt, a recently-returned Vietnam veteran scarred by the war, uproot their thirteen-year-old daughter Leni to start a new life in Alaska. Utterly unprepared for the weather and the isolation, but welcomed by the close-knit community, they fight to build a home in this harsh, beautiful wilderness.

At once an epic story of human survival and love, and an intimate portrait of a family tested beyond endurance, The Great Alone offers a glimpse into a vanishing way of life in America. With her trademark combination of elegant prose and deeply drawn characters, Kristin Hannah has delivered an enormously powerful story that celebrates the resilience of the human spirit and the remarkable and enduring strength of women. About the highest stakes a family can face and the bonds that can tear a community apart, this is a novel as spectacular and powerful as Alaska itself. It is the finest example of Kristin Hannah's ability to weave together the deeply personal with the universal.
---
The Great Alone was wonderfully written and captivating book. The Alaskan setting was both beautiful and brutal. Leni was a fantastic narrator. She, along with her parents and the other characters, were well-developed and had important stories to tell. Everything about The Great Alone was pretty much perfect — except that it was torturous to read at times.
There were just so many tragic moments. It hurt to read about Leni's life. There was just so much heartbreak. I had to take little breaks to get through much of it. I never felt like I could relax and just enjoy it.
In a way, that's a compliment to Kristin Hannah's writing. She really did touch my heart with The Great Alone. She depicted a life that was tough, but never let me give up hope for a brighter tomorrow for Leni. Even though The Great Alone wasn't a comfortable read, it was a great one. It shared an important story in a fascinating landscape.