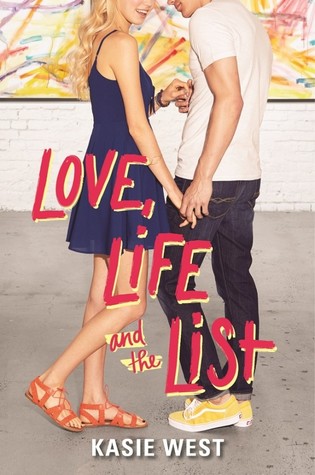 Love, Life, and the List
Author: Kasie West
Publication Date: December 26, 2017
Publisher: HarperTeen
Genre: Young Adult, Contemporary, Romance
Rating: ★ ★ ★ ★
Synopsis:
Seventeen-year-old Abby Turner's summer isn't going the way she'd planned. She has a not-so-secret but definitely unrequited crush on her best friend, Cooper. She hasn't been able to manage her mother's growing issues with anxiety. And now she's been rejected from an art show because her work "has no heart." So when she gets another opportunity to show her paintings Abby isn't going to take any chances.

Which is where the list comes in.

Abby gives herself one month to do ten things, ranging from face a fear (#3) to learn a stranger's story (#5) to fall in love (#8). She knows that if she can complete the list she'll become the kind of artist she's always dreamed of being. But as the deadline approaches, Abby realizes that getting through the list isn't as straightforward as it seems… and that maybe—just maybe—she can't change her art if she isn't first willing to change herself.

This is the first in a set of three standalone books with crossover characters.
---
Kasie West is one of my go-to YA contemporary romance authors. I love her writing. It's cute, heartwarming, and addictive. I'm always excited to start one of her books because I know I'm in for a fun time. That's exactly how I felt when starting Love, Life, and the List, and that's exactly what I got.
Love, Life, and the List is all about friendship, love, and growing up. It's about letting go of the things that hold you back and discovering who you really are. Abby had to do a lot of that in this book. She had to navigate an unrequited crush on her best friend. She had to deal with disappointment and learning how to express her emotions.
I loved how the Heart List helped Abby open herself up to new experiences and find who she was. I also loved that it helped her identify unhealthy relationships she had, and helped her stand up for herself.
The biggest one of those was with Cooper. Cooper wasn't a character I liked. That was because I adored Abby and saw how destructive their relationship was. Yes, there were the cute times they shared. And, yes, I could see what Abby saw in him. I just didn't like how he treated her. It wasn't that he didn't do nice things for her or treated her horribly. It was because he led her on. I know he wasn't exactly trying to, but he took advantage of her love for him.
I do have to admit that I liked that Cooper didn't hold Abby back on the love front. He pushed her to date other guys. I loved that he tried to set her up with Elliot. Elliot was an amazing guy, and I loved what he had in common with Abby. They were cute together.
Love, Life, and the List was almost perfect. Almost. The one thing that drove me nuts was the ending. I can't say why, but I will say that it didn't jive with what I wanted for Abby. It didn't feel like it completely fit in my opinion. The end wasn't my favorite outcome, but I do have to admit it was still cute.
Overall, I adored this book. It was cute, fun, addicting — all the things I mentioned before. I couldn't put it down, and I didn't want to. I am so excited that this is the first in a series of three crossovers. I can't wait to see who shows up in those books!