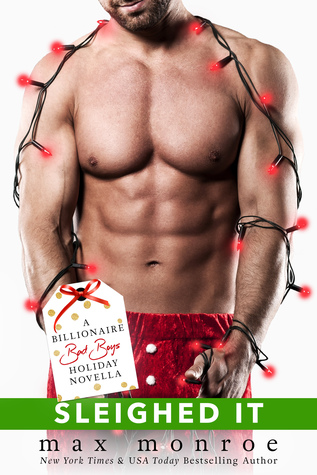 Sleighed It
Series: Billionaire Bad Boys, #3.7
Author: Max Monroe
Publication Date: December 11, 2017
Genre: Contemporary Romance, Holiday
Note: This review is for an ARC and is my unbiased opinion.
Rating: ★ ★ ★ ★ ★
Synopsis:
From the New York Times & USA Today bestselling author of TAPPING THE BILLIONAIRE comes a Billionaire Bad Boys Holiday Novella.

Question: What would you do if every holiday you ever spent with your family ended in disaster?

I'll tell you: you'd cry.

I know, because each and every celebration with my family ends in chaos—and I've had more than my share of mental breakdowns because of it.

But I'm done with the tears, the insanity—I refuse to take it anymore.

This Christmas is going to be perfect.

I'll put Thatch in a fluffing Santa Claus suit and have him tap dance to Jingle Bells, if I have to. I deserve Christmas smiles and that feel-good Christmas high I've been missing.

My name is Georgia Brooks, and by Christmas night, my husband, my kids, and my closest friends will be thinking only one fluffing thing…

She Sleighed It.
---
Max Monroe cannot go wrong with the Billionaire Bad Boys series. Every single book and novella they put out in it is so much fun! I especially loved this holiday novella. It was filled with hilarious antics. Poor Georgia couldn't catch a break. I was laughing and smiling non-stop reading about her trying to have the "perfect" Christmas.
Sleighed It definitely put me in the holiday spirit. If you're a fan of the Billionaire Bad Boys series, you won't want to miss this novella. If you haven't read the series yet, I highly recommend you do. It's some of the funniest contemporary romance I've read.