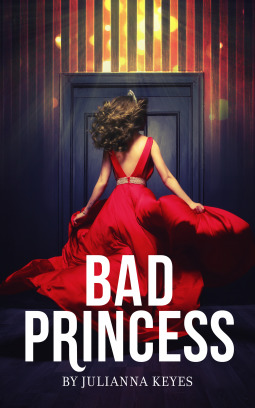 Bad Princess
Author: Julianna Keyes
Publication Date: November 27, 2017
Publisher: Julianna Keyes
Genre: New Adult, Romance, Contemporary
Note: I received an ARC from the publisher via NetGalley in exchange for an unbiased review.
Rating: ★ ★ ★ ★
Synopsis:
Notorious for leaping off roofs, maiming foreign royals, and that twerking incident, Brinley Cantrella of Estau is nobody's definition of a good princess. She's fearless and bold, not good and gracious. And after a lifetime of being told she's unfit to be queen, wearing the crown and helping to usher Estau into a new era is the one dream she's never dared chase.

But when her older sister abdicates the throne, all Brinley has to do to inherit the role is not twerk, not maim anybody, and definitely not get caught fooling around topless with Prince Finn, her childhood crush, the only man she's ever loved…and her sister's former future husband.

Finn embodies the definition of good. Tall and handsome, serious and honorable, he always does the right thing—including agreeing to marry his ex's sister to cover up this latest scandal. Brinley has fallen down stairs, broken teeth and broken bones, but this is the first time her heart has ever been broken. She now has the crown and the prince, and on the surface, life is good—but is being married to a man everyone swears could never love her back good enough?
---
I don't always read princess stories, but when I do they're by a trusted author. I had faith that Julianna Keyes could make me fall in love with her bad princess, and she totally did! Bad Princess was delightfully fun.
Princess Brinley wasn't a horrible person, she was just a young woman who acted on her impulses. Sometimes they were good, most of the time they didn't work out so well for her. Hence, her nickname Bad Princess. I loved that no matter what, Brinley stood true to who she was.
Prince Finn came across a little stuffy, but there was more hidden beneath his rule following exterior. I was surprised by how much I ended up loving him. All of the moments between Finn and Brinley were special and sweet. I didn't expect their story to be what it was, and I loved that.
Another thing I loved were all of the side characters. They were all so animated. I could easily imagine them in my heads. The one that ended up shocking me the most was Princess Elle. I didn't expect her at all. I'm hoping we get a story about her some day.
Bad Princess was a fun, fast-paced read filled with a lot of tenderness and little bit of sexiness. It would be a good starting point for those mature enough to advance from YA to NA royalty.