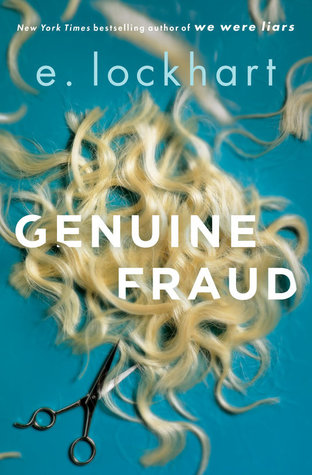 Genuine Fraud
Author: E. Lockhart
Publication Date: September 5, 2017
Publisher: Delacorte Press
Genre: Young Adult, Mystery, Contemporary
Rating: ★ ★ ★ ½
Synopsis:
The story of a young woman whose diabolical smarts are her ticket into a charmed life. But how many times can someone reinvent themselves? You be the judge.

Imogen is a runaway heiress, an orphan, a cook, and a cheat.
Jule is a fighter, a social chameleon, and an athlete.
An intense friendship. A disappearance. A murder, or maybe two.
A bad romance, or maybe three.
Blunt objects, disguises, blood, and chocolate. The American dream, superheroes, spies, and villains.
A girl who refuses to give people what they want from her.
A girl who refuses to be the person she once was.
---
Genuine Fraud was an interesting tale. E. Lockhart continued to give the reader the unexpected with it. Genuine Fraud began in the present and each chapter went back in time. The effect was that I felt like I was reading the story backward. The story continued that way all the way until almost the end. It made for a great guessing game. Each chapter divulged just enough to make me keep reading.
I have to admit that I got a bit bored in the middle of the book. I think it's because I was frustrated. I just wanted to know what the deal was with Jule and Imogen! Once I got to that part, the story flew again for me. I loved the ending, and thought it was very clever.
Overall, Genuine Fraud was a fun read. It was a darker read, but light at the same time. It had great foreshadowing and a cool set up. It was the perfect book to read on my vacation.