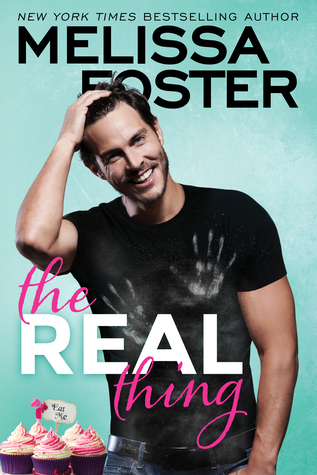 The Real Thing
Series: Sweet Lake, #1
Author: Melissa Foster
Publication Date: September 5, 2017
Publisher: Montlake Romance
Genre: Romance, Contemporary
Note: I received an ARC from the publisher via NetGalley in exchange for an unbiased review.
Rating: ★ ★ ★ ★

Synopsis:
This sassy, spirited baker is fine with heat—but is her fake fiancé too hot to handle?

Bakery owner Willow Dalton's friendship with Zane Walker has always been a bit complicated. Now a scrumptiously hot A-list actor, Zane's always had a reputation as player. He's arrogant, and he's definitely not boyfriend material. Sure, he did Willow a favor by agreeing to take her virginity before college, but is that reason enough to go along with a fake engagement a decade later—even if it comes with a real diamond ring?

Zane should have known better. Nothing involving Willow has ever been easy. Still, he knows her better than anyone, and becoming America's hottest new leading man means cleaning up his reputation. An "engagement" to curvy, sass-mouthed Willow is the perfect PR move . . . provided no one gets hurt.

Now Zane and Willow's little white lie has turned into an irresistible recipe for sweet temptation. And soon no one will be able to tell the difference between their fake engagement or the real thing—including them.
---
Willow has always longed for her older brother's best friend, Zane. They had a night together back before Willow left for college, but their relationship went no further. It left Willow with feelings of anger and resentment toward Zane — especially when he became a womanizing famous actor. Now, Zane's back in town and looking to change his image. He needs Willow to help him do that by pretending to be his fiancée. The arrangement is something Willow should know better than to say yes to, but she still can't resist Zane.
The Real Thing was a fun fake fiancée romance. It's been a long time since I read a book by Melissa Foster. I had forgotten how much I enjoy her writing. She's an author who knows how to write third person point of view. A lot of the time, it takes me a while to be able to get into third person narration. It wasn't that way with The Real Thing. I didn't even notice it. Third person felt just as easy as reading first person in this book. I really appreciated that. I also appreciated that both Willow and Zane's perspectives were included.

Willow and Zane were a cute couple. She was independent, loyal and fiery. He was overconfident, but deep down had a big heart. All of those things fit really well and complimented each other. I loved that they had been pining over each other since high school. It made their love story all the sweeter.
I do have to admit there was something that bugged me about this book that I couldn't let go. Willow's hatred and distrust of Zane didn't make complete sense. I understand that she's mad that he moved on, but she set things up that way. He truly didn't do anything that set out to hurt her or break her heart. Plus, it had been like ten years and she was still holding onto to her anger. It seemed weird since she had been in contact with him at least monthly and had seen him several times over the years. Maybe I was missing something. Maybe I needed more than just a snapshot of the aftermath of their teenage decision.
One of my favorite things about this book was the cast of secondary characters. Willow had an amazing family. Each was an individual with a strong personality. Meeting them made me very excited for what's to come in this series. I hope they all get their own books. I'm really hoping to see more of Ben and Amelia!
Overall, The Real Thing was a sweet contemporary read, and an entertaining take of a celebrity fake relationship.