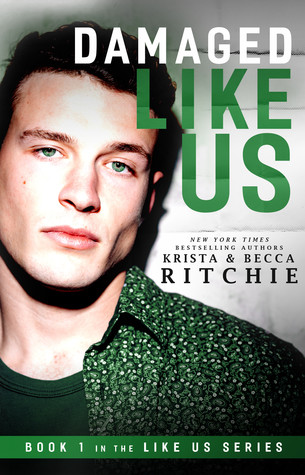 Damaged Like Us
Series: Like Us, #1
Authors: Krista & Becca Ritchie
Publication Date: June 27, 2017
Publisher: K.B. Ritchie
Genre: New Adult, Contemporary, M/M Romance
Rating: ★ ★ ★ ★ ☆
Synopsis:
Don't date your bodyguard. 
It was the one rule he had to break.

Maximoff Hale is a force of nature. A ship unwilling to be steered. Headstrong, resilient, and wholly responsible — the twenty-two-year-old alpha billionaire can handle his unconventional life. By noon, lunch can turn into a mob of screaming fans. By two, his face is all over the internet.

Born into one of the most famous families in the country, his celebrity status began at birth.

He is certified American royalty.

When he's assigned a new 24/7 bodyguard, he comes face-to-face with the worst case scenario: being attached to the tattooed, MMA-trained, Yale graduate who's known for "going rogue" in the security team — and who fills 1/3 of Maximoff's sexual fantasies.

Twenty-seven-year-old Farrow Keene has one job: protect Maximoff Hale. Flirting, dating, and hot sex falls far, far out of the boundary of his bodyguard duties and into "termination" territory. But when feelings surface, protecting the sexy-as-sin, stubborn celebrity becomes increasingly complicated.

Together, boundaries blur, and being exposed could mean catastrophic consequences for both.

The Like Us series is a true series, one continuous timeline, that follows a family of wealthy celebrities and the people who protect them. Damaged Like Us can be read and enjoyed without reading any of Krista & Becca's other novels.
---
Thank God they're back!
I know the blurb says the Like Us series can be read without reading any of Krista and Becca Ritchie's other books, but let's be honest. There's no way anyone who hasn't read the Addicted /Calloway Sisters series could be near as excited for Damaged Like Us as fans of those series. I binge read the entire series last year, and the countdown to release day began the minute I heard Moffy was getting his own book. I couldn't wait to be back in that world. When Damaged Like Us finally showed up on my Kindle, I dropped everything to read it because I needed more of the Hales, Cobalts, and Meadows in my life.
I found Damaged Like Us to be just as addictive as Krista and Becca Ritchie's other novels. I immediately loved adult Moffy. I got to know him a little bit as a kid in previous novels, but it was so rewarding getting to know the adult version in this book. He was exactly who he should have been, who I would have pictured him to be. Moffy had a quiet strength. He was there for his family members in the most unconditional way. He put them first, even when he shouldn't. Sometimes that meant he suffered, but that didn't really bother him. Or at least it didn't bother him until Farrow was assigned to be his body-guard.
Farrow was dreamy. He was tough and tatted on the outside, but kind of a traditionalist on the inside. I loved that about him. I also loved that he knew what he wanted in all aspects of his life and went for it. The way he pushed Maximoff's boundaries made Farrow a great match for him.
I wanted more of this book. I felt like it flew by and ended before I was ready for it to be over. I know that Moffy and Farrow are getting a second book and that I'll get more of their story, but I wanted this one to be longer. It left me with some major questions about how things progressed after the end. It's me being selfish, but I want to know now!
I'm really hoping that this series is not going to be just Moffy's story, but will also include each of the Hale, Cobalt and Meadows kids. Reading about them again only furthered my curiosity! I am especially interested in Jane's story. I got to see a bit of her life in Damaged Like Us, but there has to be more to her story! The little I read about her didn't do her justice. I needed inside her head! Same for Xander. I have so many questions about what's next for him.
If you couldn't tell, I really enjoyed Damaged Like Us. I'm so, so happy Krista and Becca Ritchie decided to write this spin-off series.