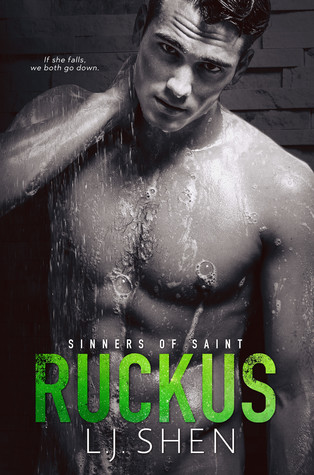 Ruckus
Series: Sinners of Saint, #2
Author: L.J. Shen
Publication Date: May 23, 2017
Publisher: L.J. Shen
Genre: New Adult, Contemporary Romance
Rating: ★ ★ ★ ★ ★
Synopsis:
Rosie

They say that life is a beautiful lie and death a painful truth. They're right.
No one has ever made me feel more alive than the guy who serves as a constant reminder that my clock is ticking.
He is my forbidden, shiny apple.
The striking fallacy to my blunt, raw, truth.
He is also my sister's ex-boyfriend.
One thing you should know before you judge me;
I saw him first. I craved him first. I loved him first.
Eleven years later, he waltzed into my life, demanding a second chance.
Dean Cole wants to be my bronze horseman. My white knight has finally arrived. Hopefully, he isn't too late.

Dean

They say the brightest stars burn out the fastest. They're right.
She sets my mind on fire.
All smart mouth, snarky attitude and a huge heart.
In a world where everything is dull, she shines like fucking Sirius.
Eleven years ago, fate tore us apart.
This time, I dare it to try.
Getting to her is a battlefield, but man, that's why they call me Ruckus.
Rosie LeBlanc is about to find out how hard I can fight.
And conquering her will be the sweetest victory.
---
When Ruckus released last month, I saw a ton of good reviews for it. I had never read L.J. Shen's books before, so I decided to give Ruckus a try. I downloaded it, but couldn't get to it right away. This week, I was feeling a bit of a book hangover and decided to start Ruckus. I'm really happy I did. I have found a new author I'm excited to read more from.
Rosie LeBlanc has felt a connection to Dean "Ruckus" Cole ever since she first met his glare in high school. She knew Dean was the one for her at that moment. Sadly, a relationship with him wasn't in the cards. Dean was her sister's boyfriend, and that made him off-limits even after they broke up.
Now, year's later, Dean's back in Rosie's life. They live in the same building, and no matter how hard Rosie tries to avoid Dean, she always runs into him and his harem. His blunt cockiness and womanizing ways should make Dean the least desirable guy, but when Rosie's sister's wedding requires them to spend time together, she can't help but be drawn further into his web.
I loved L.J. Shen's writing style. It's a little bit dark and a whole lot gritty. I love that she gives a voice to both the male and female main characters. The first person dual points of view are raw and emotion filled. Her characters are alpha males and strong females who won't step down from a fight. They have something traumatic that pulls them together, while at the same time breaking them apart.
Rosie was an inspiring character. Her life was harder than most due to physical challenges, but she didn't let that stop her from trying to achieve her dreams. She was so good deep down inside, and saw good in Dean when others wouldn't have.
Honestly, Dean was a cocky jerk. He may have had a lot going for him career and looks wise, but he wasn't a nice guy. Dean had moments where his compassion and sweetness showed through, but they were rare. He was pretty messed up, and it took a lot to get him started on the right path. It took me a while to really like Dean. I would have liked to have seen more of the redeemed Dean. I could have used about 5 epilogues to believe he could be who he needed to be — I'm not just saying that because I fell in love with him even more in the epilogue provided.
Rosie and Dean's relationship was a rough one. There were a lot of barriers trying to keep them apart. Whether it was her health, his addictions or their friends and family, nothing was strong enough to break them apart. Their chemistry and love for each other was too strong. I loved how they fought for their love and for each other.
Since this is the first book I've read in the Sinner of Saint series, I feel the need to point out two things. First, the side characters are just as intriguing as the main characters. Hearing about everyone's combined past makes me want to hurry up and read the other books in the series. I need to know more about the rest of the HotHoles and their women. Second, this book can be read as a standalone. You don't have to have read the first book to read this one. It might have made it more fun (I don't know since I didn't read the other books first.), but it was a great reading experience without having read the other books.
Oh! And I can't leave out the fact that Ruckus surprised me! I thought I knew what Dean's secrets were going to be, but I didn't! I was completely surprised a couple of different times while reading. I loved that!
Overall, I loved reading Ruckus. This enthralling romance was combined with just the right amount of mystery and darkness. It was everything I expect from a great new adult book. I will be immediately reading the rest of the series.