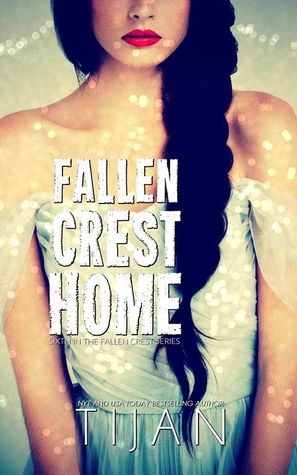 Fallen Crest Home
Series: Fallen Crest High, #6
Author: Tijan
Publication Date: April 17, 2017
Genre: New Adult, Contemporary Romance
Rating: ★ ★ ★ ★ ½
Synopsis:
It's been years since my mother was in my life.
I healed.
I learned to accept love.
I lived.
That's all done. She was away, and now she's back.
I avoided her for a year and a half, but I couldn't hide anymore.
Mason had an internship in Fallen Crest, so we headed back for the summer.
And when we got there—no one was prepared for what happened.
---
Yep, I'm still addicted. I'm still obsessively devouring the Fallen Crest High series. Can't stop. Won't stop. This series is just too dramatically riveting. I'm pretty amazed by it. I mean, when I first started the series, I couldn't say I loved the characters. Well, maybe Logan, but the rest of them were too nuts. I was pulled in by the drama, stayed for the drama, and somehow found myself falling in love with every single characters — good and bad. Now, I'm a fan of the fearsome twosome, threesome, and foursome. (That will only make sense if you have read all the books.)
The "Home" in Fallen Crest Home refers to the return of the family to Fallen Crest for the summer. Mason's interning with his dad's company, and Sam's mentally and physically trying to avoid the fact that Analise has returned to town. Since that's not enough to deal with, the new king of the Roussou scene is looking to settle Budd's debt with the Kades. What should have been a relaxing summer is shaping up to be more trouble than the fearsome foursome could have predicted.
Fallen Crest Home is one of my favorite books in this series. Things are starting to come full circle for the Fallen Crest family. Mason, Sam and Logan are older now. They're thinking about the future and making smarter choices. I say thinking because they'll do anything protect their family.
Sam and Mason's relationship is in a good place in this book. They have a renewed need for each other, and I loved getting more of their intimate moments again. Their connection felt stronger than ever. Sam still has some mental anguish going on, but she's able to identify it and attempt to deal with it.
Logan is the same old Logan, but now he's got a love of his own to fight for. It only adds to his fierce defense of his family. Nate's the only odd man out, but he's still there to help out his friends.
Since this is Fallen Crest, the fearsome foursome aren't the only returning characters. One of my favorite couples, Heather and Channing were back and in on the action. I love those two so much. I would really like a book devoted to them! Several of my least favorite FCA students were also back to wreak havoc. Adam, Becky, Cass, and Kate all made appearances.
With all these characters back in action, you can only imagine all of the drama that could unfold…and it did! I loved the way this part of Sam and Mason's story was laid out. Of course, the drama was over the top, but it made sense to me. It wasn't out there crazy. Not all of Sam and Mason's problems were solved, but some important ones felt more resolved and I can see how this series is headed toward a strong finish. I know how I want the next book to start, and I'm hoping my wish comes true.
If you enjoy dramatic series filled with angst, longing, intense love and a strong sense of family, you really need to read the entire Fallen Crest High series from beginning to end. It's a wild, addicting ride.