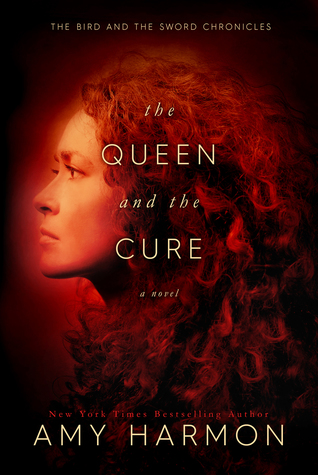 The Queen and the Cure
Series: The Bird and the Sword Chronicles, #2
Author: Amy Harmon
Publication Date: May 9, 2017
Publisher: Amy Harmon
Genre: Fantasy, Romance, New Adult
Rating: ★ ★ ★ ★ ★
Synopsis:
"There will be a battle, and you will need to protect your heart."

Kjell of Jeru had always known who he was. He'd never envied his brother or wanted to be king. He was the bastard son of the late King Zoltev and a servant girl, and the ignominy of his birth had never bothered him.

But there is more to a man than his parentage. More to a man than his blade, his size, or his skills, and all that Kjell once knew has shifted and changed. He is no longer simply Kjell of Jeru, a warrior defending the crown. Now he is a healer, one of the Gifted, and a man completely at odds with his power.

Called upon to rid the country of the last vestiges of the Volgar, Kjell stumbles upon a woman who has troubling glimpses of the future and no memory of the past. Armed with his unwanted gift and haunted by regret, Kjell becomes a reluctant savior, beset by old enemies and new expectations. With the woman by his side, Kjell embarks upon a journey where the greatest test may be finding the man she believes him to be.
---
Bravo, Amy Harmon! The Queen and the Cure was a masterpiece. It was an epic, romantic adventure that even someone who does not normally gravitate toward fantasy, like myself, could fall in love with. It was filled with evil villains, internal and external conflicts, magic, and a legendary romance.
The writing and imagery in The Queen and the Cure were just as beautiful as they were in The Bird and the Sword. I was immediately pulled back into the world of Jeru and its surrounding kingdoms. It was fun to be back in this world with all its amazing characters and settings. Plus, I was super excited to learn Kjell's story! His character had so much potential in the first book.
Kjell was just as brutish as I expected him to be. He had the strength and presence his position required. He was also humble and had a sweetness he tried to keep hidden. It was easy for him to do that until he met Sasha. I loved Sasha. She had a quiet strength about her. Sasha created an inner turmoil in Kjell that was fascinating.
Everything about Kjell and Sasha's story was magical and special. I won't tell you more about it because there are so many great things to discover for yourself in this book. There are so many surprises and twists in store for the reader! I honestly couldn't get enough of it, and highly recommend it. The Queen and the Cure was even better than The Bird and the Sword. That's saying a lot because I absolutely loved that book.