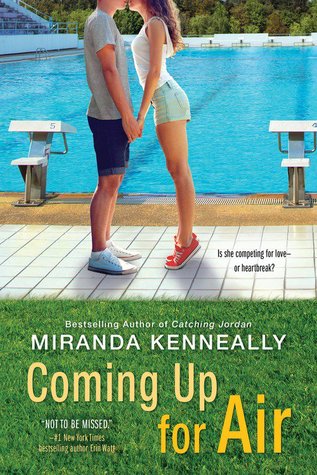 Coming Up for Air
Series: Hundred Oaks
Author: Miranda Kenneally
Publication Date: July 4, 2017
Publisher: Sourcebooks Fire
Genre: Young Adult, Contemporary, Sports Romance
Note: I received an ARC from the publisher via NetGalley in exchange for an unbiased review.
Rating: ★ ★ ★ ★ ★
Synopsis:
Swim. Eat. Shower. School. Snack. Swim. Swim. Swim. Dinner. Homework. Bed. Repeat.

All of Maggie's focus and free time is spent swimming. She's not only striving to earn scholarships—she's training to qualify for the Olympics. It helps that her best friend, Levi, is also on the team and cheers her on. But Levi's already earned an Olympic try out, so she feels even more pressure to succeed. And it's not until Maggie's away on a college visit that she realizes how much of the "typical" high school experience she's missed by being in the pool.

Not one to shy away from a challenge, Maggie decides to squeeze the most out of her senior year. First up? Making out with a guy. And Levi could be the perfect candidate. After all, they already spend a lot of time together. But as Maggie slowly starts to uncover new feelings for Levi, how much is she willing to lose to win?
---
Miranda Kenneally is one of the YA authors whose books I cannot get enough of. I love the way she tackles tough teenage topics. I was very excited to have the chance to read an ARC of her upcoming release, Coming Up for Air. Coming Up for Air tackles a couple of different teenage issues. One is how to deal with competition and self-confidence in sports. The other is hooking up.
In Coming Up for Air, Maggie is a dedicated swimmer. Her life runs around getting her closer to her Olympic dream. She's missed out on a lot of high school experiences, but that hasn't mattered because she's had her best friend, Levi, by her side. It isn't until Maggie goes to visit her dream college that she realizes she might be missing some really important things while she's training. The most important to her — how to hook up with guys. It's been a while since her last kiss, and Maggie's ready to experience more kisses and maybe more than just kisses. The problem is, Maggie doesn't have anyone to kiss.
The only person Maggie can think of to help her with her problem is Levi. He's had lots of practice and she trusts him. Levi's not so sure about Maggie's idea, but he doesn't like the idea of her hooking up with some random guy. All Maggie needs to do is convince Levi that hooking up won't make things awkward between them. But Maggie's never hooked up with anyone before, and soon she starts to understand what Levi meant by awkward.
Coming Up for Air has a great message about competing against yourself and not worrying about everyone else. That part was really inspiring, but what stood out more for me in this book was how it talked about the culture of hooking up. I liked the way it dealt with it. Things are so different these days than when I was a teenager. There's definitely a more carefree attitude when it comes to sex, but there's also still a lot of slut-shaming. I liked how Maggie wanted to experiment and be ready for college hook ups, but didn't want to do anything that would tarnish her good girl image. Her idea to turn to her best friend, Levi, for help was smart in a way. She went to someone she trusted for help. Now, I would have preferred she didn't have to look for someone, that she was already in love with someone and wanted to take things further for that reason, but I know that's not always real life. I loved how Miranda Kenneally approached the whole topic, and the myriad of feelings she had both Maggie and Levi go through. Their feelings felt genuine, and everything went down exactly as it should have. Maggie and Levi's ever-changing relationship was exactly what I would have expected it to be in real life.
If you're a fan of the Hundred Oaks series, you will love Coming Up for Air. It's just as fun and well-written as the rest of the series. It does an amazing job of showcasing what it takes to be an elite athlete, while also taking a closer look at today's hook up culture. I loved every minute of it.