Top Ten Tuesday is an original weekly feature created by The Broke and the Bookish. This week's theme is Read In One Sitting Theme: ten of the shortest books I've read, top ten books I read in one sitting, ten books to read when you are short on time, top ten books that will make you read the whole day away, etc. Since I can easily read many books in a day given enough free time, I'm going with Ten Books You Won't Want To Put Down. It's kind of along the lines of books that will make you read the whole day.
---
1. A Boy Like You
Ginger Scott
 They say everyone's a superhero to someone. I'm not sure who I'm supposed to save, but I know who saved me.
We were kids. His name was Christopher. And up until the day he pulled me from death's grip, he was nothing more than a boy I felt sorry for. In a blink of an eye, he became the only person who made me feel safe.
And then he disappeared.
Now I'm seventeen. I'm not a kid anymore. I haven't been for years. While death didn't take me that day, the things that happened left me with scars—the kind that robbed me of everything I once loved and drove me into darkness. But more than anything else, that day—and every day since—has taken away my desire to dream.
I wasn't going to have hope. I wouldn't let myself wish. Those things—they weren't for girls like me. That's what I believed…until the new boy.
He's nothing like the old boy. He's taller and older. His hair is longer, and his body is lean—strong and ready for anything. I don't feel sorry for him. And sometimes, I hate him. He challenges me. From the moment I first saw him standing there on the baseball field, he pushed me—his eyes constantly questioning, doubting…daring. Still, something about him—it feels…familiar.
He says his name is Wes. But I can't help but feel like he's someone else. Someone from my past. Someone who's come back to save me.
This time, though, he's too late. Josselyn Winters, the girl he once knew, is gone. I am the threat; I am my worst enemy. And he can't save me from myself.
---
2. Full Tilt
Emma Scott
 "I would love you forever, if I only had the chance…"
Kacey Dawson has always lived life on the edge–impulsively, sometimes recklessly. And now, as lead guitarist for a hot up-and-coming band, she is poised at the brink of fame and fortune. But she is torn between wanting to be a serious musician, and the demons that lure her down the glittering, but alcohol-soaked path of rock stardom. A wrecked concert in Las Vegas threatens to ruin her career entirely. She wakes up with the hangover from hell and no memory of the night before, or how she ended up on her limo driver's couch…
Jonah Fletcher is running out of time. He knows his situation is hopeless, and he's vowed to make the most of the handful of months he has left to him. His plans include seeing the opening of his glass installation at a prestigious art gallery…they do not include falling in love with a wild, tempestuous rock musician who wound up passed out on his couch.
Jonah sees that Kacey is on a path to self-destruction. He lets her crash with him for a few days to dry out and get her head on straight. But neither of them expected the deep connection they felt, or how that connection could grow so fast from friendship into something more. Something deep and pure and life-changing…something as fragile as glass, that they both know will shatter in the end no matter how hard they try to hold on to it.
Full Tilt is a story about what it means to love with your whole heart, to sacrifice, to experience terrible grief and soaring joy. To live life with all its beauty, and all its pain, and in the end to be able to smile through tears and know you wouldn't have changed a thing.
---
3. Addicted to You
Krista & Becca Ritchie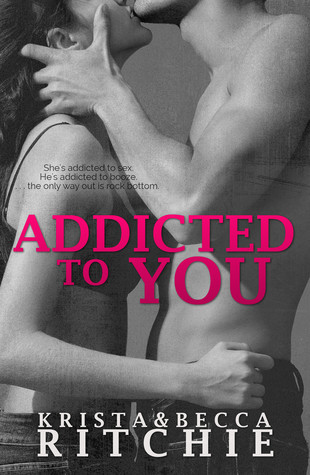 She's addicted to sex. He's addicted to booze…the only way out is rock bottom.
No one would suspect shy Lily Calloway's biggest secret. While everyone is dancing at college bars, Lily stays in the bathroom. To get laid. Her compulsion leads her to one-night stands, steamy hookups and events she shamefully regrets. The only person who knows her secret happens to have one of his own.
Loren Hale's best friend is his bottle of bourbon. Lily comes at a close second. For three years, they've pretended to be in a real relationship, hiding their addictions from their families. They've mastered the art of concealing flasks and random guys that filter in and out of their apartment.
But as they sink beneath the weight of their addictions, they cling harder to their destructive relationship and wonder if a life together, for real, is better than a lie. Strangers and family begin to infiltrate their guarded lives, and with new challenges, they realize they may not just be addicted to alcohol and sex.
Their real vice may be each other.
---
4. The Hard Count
Ginger Scott
 Nico Medina's world is eleven miles away from mine. During the day, it's a place where doors are open—where homes are lived in, and neighbors love. But when the sun sets, it becomes a place where young boys are afraid, where eyes watch from idling cars that hide in the shadows and wicked smoke flows from pipes.
West End is the kind of place that people survive. It buries them—one at a time, one way or another. And when Nico was a little boy, his mom always told him to run.
I'm Reagan Prescott—coach's daughter, sister to the prodigal son, daughter in the perfect family.
Life on top.
Lies.
My world is the ugly one. Private school politics and one of the best high school football programs in the country can break even the toughest souls. Our darkness plays out in whispers and rumors, and money and status trump all. I would know—I've watched it kill my family slowly, strangling us for years.
In our twisted world, a boy from West End is the only shining light.
Quarterback.
Hero.
Heart.
Good.
I hated him before I needed him.
I fell for him fast.
I loved him when it was almost too late.
When two ugly worlds collide, even the strongest fall. But my world…it hasn't met the boy from West End.
---
5. Paper Princess
Erin Watt
 From strip clubs and truck stops to southern coast mansions and prep schools, one girl tries to stay true to herself.
These Royals will ruin you…
Ella Harper is a survivor—a pragmatic optimist. She's spent her whole life moving from town to town with her flighty mother, struggling to make ends meet and believing that someday she'll climb out of the gutter. After her mother's death, Ella is truly alone.
Until Callum Royal appears, plucking Ella out of poverty and tossing her into his posh mansion among his five sons who all hate her. Each Royal boy is more magnetic than the last, but none as captivating as Reed Royal, the boy who is determined to send her back to the slums she came from.
Reed doesn't want her. He says she doesn't belong with the Royals.
He might be right.
Wealth. Excess. Deception. It's like nothing Ella has ever experienced, and if she's going to survive her time in the Royal palace, she'll need to learn to issue her own Royal decrees.
---
6. Too Late
Colleen Hoover
 Sloan will go through hell and back for her little brother. And she does, every single night.
Forced to remain in a relationship with the dangerous and corrupt Asa Jackson, Sloan will do whatever it takes to make sure her brother has what he needs.
Nothing will get in her way.
Nothing except Carter.
Sloan is the only good thing to ever happen to Asa. He knows this and he never plans on letting her go; even if she doesn't approve of his lifestyle. But despite Sloan's disapproval, Asa knows what it takes to get what he wants. He knows what he needs to do to remain on top.
Nothing will get in his way.
Nothing except Carter.
---
7. Calendar Girl
Audrey Carlan
 It's really simple. I needed money. A lot of money. One million dollars to be exact. The amount didn't matter. All that mattered is that at the end of that price tag held my father's life.
No money. No life.
The time limit was one year. On January 1st I had to pay up or my Father was going to be killed.
When you're faced with an ultimatum like this, you do whatever you have to do.
And that's exactly what I did.
The job…Exquisite Escorts. My role, serve as high priced arm candy to anyone that can afford the $100,000 price tag for a month of my company. Sex is optional (for me) and a 20% increase on the price.
Mia Saunders just barely escaped a paltry life back home in Las Vegas until she gets the call that her Father has been beaten to within an inch of his life for not paying his gambling debt. Problem is, the lone shark is her lousy, ruthless ex-boyfriend. Another guy in a long line of men she'd fallen head over heels for. Not anymore.
Mia's mission is simple. Serve as a high-priced escort for her Aunt's company and pay monthly against her Father's bad debt. A month with a rich man who she doesn't have to sleep with if she doesn't want to? Easy money. At least that's the way it was supposed to go.
---
8. Nine Minutes
Beth Flynn
 On May 15, 1975, fifteen-year-old Ginny Lemon is abducted from a convenience store in Fort Lauderdale by a member of one of the most notorious and brutal motorcycle gangs in South Florida.
From that moment on, her life is forever changed. She gets a new name, a new identity and a new life in the midst of the gang's base on the edge of the Florida Everglades—a frightening, rough and violent world much like the swamps themselves, where everyone has an alias and loyalty is tantamount to survival.
And at the center of it all is the gang's leader, Grizz: massive, ruggedly handsome, terrifying and somehow, when it comes to Ginny, tender. She becomes his obsession and the one true love of his life.
So begins a tale of emotional obsession and manipulation, of a young woman ripped from everything she knows and forced to lean on the one person who provides attention, affection and care: her captor. Precocious and intelligent, but still very much a teenager, Ginny struggles to adapt to her existence, initially fighting and then coming to terms with her captivity.
Will she be rescued? Will she escape? Will she get out alive—or get out at all? Part psychological thriller, part coming-of-age novel, filled with mystery, romance and unexpected turns, Nine Minutes takes readers into the world of one motorcycle gang and inside the heart of a young girl, whose abduction brought about its fall.
---
10. One Kick
Chelsea Cain
 Kick Lannigan, 21, is a survivor. Abducted at age six in broad daylight, the police, the public, perhaps even her family assumed the worst had occurred. And then Kathleen Lannigan was found, alive, six years later. In the early months following her freedom, as Kick struggled with PTSD, her parents put her through a litany of therapies, but nothing helped until the detective who rescued her suggested Kick learn to fight. Before she was thirteen, Kick learned marksmanship, martial arts, boxing, archery, and knife throwing. She excelled at every one, vowing she would never be victimized again. But when two children in the Portland area go missing in the same month, Kick goes into a tailspin. Then an enigmatic man Bishop approaches her with a proposition: he is convinced Kick's experiences and expertise can be used to help rescue the abductees. Little does Kick know the case will lead directly into her terrifying past…
---
What books have you not been able to put down?