Top Ten Tuesday is an original weekly feature created by The Broke and the Bookish. This week's theme is Top Ten Books On My Spring TBR. Here are ten books I can't wait to read this spring.
---
1. Say I'm Yours by Corinne Michaels

Release Date: March 27, 2017
 I spent twenty years waiting for Trent Hennington to open his eyes and see me. But it was all for nothing. He chose to keep himself guarded and let me walk away, proving that my time and efforts were wasted.
I'm done being invisible.
It's time to move on.
A single dance sets my new reality into motion, and I welcome it. After all, Cooper Townsend is perfect. He's kind, sexy, and attentive—everything a girl could want.
I thought I got it right this time.
That my heart could mend, and I would be happy.
Apparently, some things really are just too hard to walk away from.
---
2. Unwritten by Jen Frederick

Release Date: March 6, 2017
 After years of trying to hit it big with his band, Adam Rees' dream is finally about to come true. A new lead singer brings with him a hot tour invite, but with a catch—his sister has to come with them. Despite an off-limits edict, Adam is instantly attracted the smart and beautiful Landry. But if he wants to claim his woman, it might be at the expense of all his ambitions.
Landry Olsen has had success at every stage of her life, except when it comes to men. She's put her heart on the shelf, but one look at Adam and she's a goner. The hot rocker heats her from the inside out, and she wants him as much as he wants her. The only thing standing in their way of their happiness is Landry's brother—she ruined his musical hopes before, and she won't do it again. Even if it means saying no to the one guy who makes her believe in love again.
There's no fruit more tempting than the forbidden kind…
---
3. Walk of Shame by Lauren Layne

Release Date: April 18, 2017
 Pampered heiress Georgianna Watkins has a party-girl image to maintain, but all the shopping and clubbing is starting to feel a little bit hollow—and a whole lot lonely. Though Georgie would never admit it, the highlights of her week are the mornings when she comes home at the same time as her uptight, workaholic neighbor is leaving to hit the gym and put in a long day at the office. Teasing him is the most fun Georgie's had in years—and the fuel for all her naughtiest daydreams.
Celebrity divorce attorney Andrew Mulroney doesn't have much time for women, especially spoiled tabloid princesses who spend more time on Page Six than at an actual job. Although Georgie's drop-dead gorgeous, she's also everything Andrew resents: the type of girl who inherited her penthouse instead of earning it. But after Andrew caps one of their predawn sparring sessions with a surprise kiss—a kiss that's caught on camera—all of Manhattan is gossiping about whether they're a real couple. And nobody's more surprised than Andrew to find that the answer just might be yes.
---
4. 180 Seconds by Jessica Park

Release Date: April 25, 2017
 Some people live their entire lives without changing their perspective. For Allison Dennis, all it takes is 180 seconds…
After a life spent bouncing from one foster home to the next, Allison is determined to keep others at arm's length. Adopted at sixteen, she knows better than to believe in the permanence of anything. But as she begins her third year in college, she finds it increasingly difficult to disappear into the white noise pouring from her earbuds.
One unsuspecting afternoon, Allison is roped into a social experiment just off campus. Suddenly, she finds herself in front of a crowd, forced to interact with a complete stranger for 180 seconds. Neither she, nor Esben Baylor, the dreamy social media star seated opposite her, is prepared for the outcome.
When time is called, the intensity of the experience overwhelms Allison and Esben in a way that unnerves and electrifies them both. With a push from her oldest friend, Allison embarks on a journey to find out if what she and Esben shared is the real thing—and if she can finally trust in herself, in others, and in love.
---
5. When It's Real by Erin Watt
Release Date: May 1, 2017
 From #1 New York Times bestselling author duo Erin Watt comes the addictive contemporary tale of a teen rock star in need of an image makeover and the teen girl hired to be his fake girlfriend.
Meet Oakley Ford-teen celebrity, renowned pop star, child of famous movie stars, hottie with millions of fangirls… and restless troublemaker. On the surface he has it all, but with his home life disintegrating, his music well suddenly running dry, and the tabloids having a field day over his outrageous exploits, Oakley's team decides it's time for an intervention. The result: an image overhaul, complete with a fake girlfriend meant to show the world he's settled down.
Enter seventeen-year-old Vaughn Bennett-devoted sister, part-time waitress, the definition of "normal." Under ordinary circumstances she'd never have taken this gig, but with her family strapped for cash, she doesn't have much of a choice. And for the money Oakley's team is paying her, she figures she can put up with outlandish Hollywood parties and a team of publicists watching her every move. So what if she thinks Oakley's a shallow, self-centered jerk? It's not like they're going to fall for each other in real life…right?
---
6. Joy Ride by Lauren Blakely

Release Date: May 30, 2017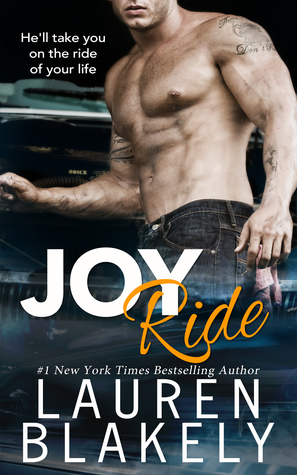 Let's be honest, ladies. A good man is a lot like the perfect car. You want a hot body, an engine that purrs, and superior performance under the hood. You probably also crave a ride that can go all night long.
I'm at your service.
Like the custom cars I build with class and sophistication, that's exactly how I treat a woman, even if it's for one night only. But then a wildly sexy brunette appears in my life and throws a wrench in all my plans.
She's fiery, she's talented, she's gorgeous, and she's my biggest rival.
But wait. There's more. This woman I'm ridiculously attracted to also loathes me. That ought to be easy to deal with, except we're forced to work together on the most important build of my career. Every day I spend with her, we set new records for trading barbs and dirty innuendos, and every night I'm left wondering if maybe all that hate is really something else. Until one night, that question is answered on the hood of a sports car when she calls out my name three times. And we can't seem to put on the brakes.
If sleeping with the enemy is a bad idea, how much more dangerous would it be to fall in love with her?
---
7. The Names They Gave Us by Emery Lord

Release Date: May 16, 2017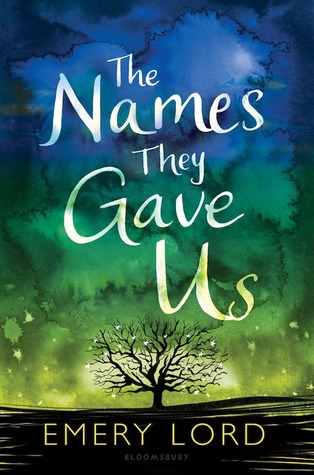 Lucy Hansson was ready for a perfect summer with her boyfriend, working at her childhood Bible camp on the lake. But when her mom's cancer reappears, Lucy falters—in faith, in love, and in her ability to cope. When her boyfriend "pauses" their relationship and her summer job switches to a different camp—one for troubled kids—Lucy isn't sure how much more she can handle. Attempting to accept a new normal, Lucy slowly regains footing among her vibrant, diverse coworkers, Sundays with her mom, and a crush on a fellow counselor. But when long-hidden family secrets emerge, can Lucy set aside her problems and discover what grace really means?
---
8. Buns by Alice Clayton

Release Date: May 23, 2017
 Clara Morgan is living the dream, if you can call rebranding hotels that are desperate for a new life and running any kind of marathon a dream. Which she does. But the career she loves and the endurance races that keep her adrenaline pumping have kept her too busy to put down any roots. Growing up in foster care, she's never been able to establish traditions of her own, which may be why she's fascinated by the rituals that generations-old family resorts are known for. She's especially interested in the Bryant Mountain House, and not just for their secret recipe for the yummy, gooey, can't-get-enough-of Hot Cross Buns….
Archie Bryant, the man with the Buns, is fifth generation and one-day-owner of the charming yet run-down Bryant Mountain House in Bailey Falls, New York. He's determined to save his family's legacy from the wrecking ball the old-fashioned way—by gritting his teeth and doing what needs to be done. There's no way Archie will be influenced by the new hotel branding expert his father brought in to turn one hundred and fifty years of tradition on its head just to attract a faster, younger, slicker crowd. But when some of Clara's ideas start bringing in new, paying customers, Archie can't deny that she may have just given him a shot at keeping his resort open.
It's sticky, it's messy, it's sweet, it's Buns.
---
9. Pipe Dreams by Sarina Bowen

Release Date: May 2, 2017
 A goalie has to trust his instincts, even when taking a shot to the heart…
Mike Beacon is a champion at defending the net, but off the ice, he's not so lucky. A widower and a single father, he's never forgotten Lauren Williams, the ex who gave him the best year of his life. When Lauren reappears in the Bruisers office during the playoffs, Beacon sees his chance to make things right.
Lauren hates that she's forced to travel with the team she used to work for and the man who broke her heart. There's still undeniable sexual tension running between her and Mike, but she won't go down that road again. She's focused on her plans for the future—she doesn't need a man to make her dreams of motherhood come true.
Lauren plays her best defensive game, but she's no match for the dark-eyed goalie. When the field of play moves to Florida, things heat up on the beach.
One of Mike's biggest fans doesn't approve—his teenage daughter. But a true competitor knows not to waste the perfect shot at love.
---
10. Cheater's Regret by Rachel Van Dyken

Release Date: May 23, 2017
 Austin Rogers's dreams of domestic bliss involved watching Netflix and eating hot dogs with the love of her life. But then he cheated on her. And dumped her—as if the whole thing was her fault. To maintain her pride and restore her sanity, she decides to get revenge. It feels immensely satisfying to plot her ex's downfall—but so does kissing him.
Thatch Holloway, a plastic surgeon straight out of residency, knows he ruined the best thing that ever happened to him. But not all cheaters are created equal. He got himself into this messed-up situation—true—but he has his reasons for what happened, and he'd do it all again to protect Austin.
He's not over her. And she's not over him.
Austin wants closure, but since Thatch refuses to give it to her, she takes matters into her own hands. She needs to write a human-interest piece for her MBA, so she demands the full plastic-surgery experience. Sparks fly as they're forced to work together. But Thatch isn't afraid to play dirty in return. And he's still hiding something—something that has the power to destroy not only Austin but their second chance at finding forever…
---
Are any of these books on your spring TBR? Have you added any of them since reading this post?