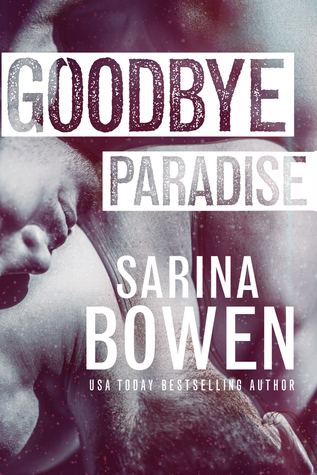 Goodbye Paradise
Series: Hello Goodbye, #1
Author: Sarina Bowen
Publication Date: March 21, 2015 (previously published as In Front of God and Everyone in 2015)
Publisher: Sarina Bowen
Genre: New Adult, Contemporary Romance, LGBTQ+
Note: I received an ARC from the author in exchange for an unbiased review.
Rating: ★ ★ ★ ★ ★
Synopsis:
Most people called it a cult. But for twenty years, Josh and Caleb called it home.

In Paradise, there is no television. No fast food. Just long hours of farm work and prayer on a dusty Wyoming ranch, and nights in a crowded bunkhouse. The boys of the Compound are kept far from the sinners' world.

But Joshua doesn't need temptation to sin. His whole life, he's wanted his best friend, Caleb. By day they work side by side. Only when Josh closes his eyes at night can they be together the way he craves.

It can never be. And his survival depends on keeping his terrible desires secret.

Caleb has always protected Josh against the worst of the bullying at the Compound. But he has secrets of his own, and a plan to get away — until it all backfires.

Josh finds himself homeless in a world that doesn't want him. Can Caleb find him in time? And will they find a place of safety, where he can admit to Josh how he really feels?

Warning: Contains a hot male/male romance, copious instances of taking the Lord's name in vain, and love against the kitchen counter. This book was previously released under the title: In Front of God & Everyone.
---
I had no idea Sarina Bowen had published a M/M romance series under another name. I am so happy she decided to rerelease Goodbye Paradise because I probably never would have found out about these books without her doing it. That would have been a travesty because I love Sarina Bowen's writing, and Goodbye Paradise was outstanding.
Goodbye Paradise captured my heart from the very beginning. I was immediately pulled in by Josh and Caleb's thoughts and experiences in the Paradise cult. I also enjoyed experiencing all their new experiences through their eyes once they left the cult. Their world was fascinating to me. I was so impressed with the settings and characters Sarina Bowen created in this book.
Both Josh and Caleb were amazing characters. Caleb was a protector with Josh's best interests at heart. He knew what he wanted and went for it, but he did so in such a sweet and controlled manner. I loved his inner strength and confidence. I absolutely adored Josh. I have to admit that he was my favorite. He may not have had the strength that Caleb had, but his soul was beautiful. Josh radiated kindness. His thoughts of inadequacy and his internal struggles with what was right and wrong were easy to connect to. There was so much depth to his journey.
Caleb and Josh's romance wasn't an easy one. Coming from the cult, they both had different ideas of how their lives together should progress. They not only had to navigate through concerns of what others would think of their relationship, but they had to discover and experiment to learn what type of physical relationship worked for them. The love and understanding between the two of them was very sweet.
Another amazing thing about Goodbye Paradise were its side characters. Everyone Caleb and Josh met along the way was special and contributed to their journey. I especially loved Daniel, Maggie and Chloe. Their support of the boys was heartwarming. I loved the family they made.
Goodbye Paradise has taken a special place in my heart — right behind Him and Us. I loved every minute of Caleb and Josh's journey to freedom and love. Their story was such a special one, and M/M romance fans are not going to want to miss out on it. I also can't forget to mention that fans of the True North series are going to love the little mentions here and there about some of their favorite people. 😉 I can't wait to read the next book in this series!
PURCHASE LINKS:
➜ Amazon: http://geni.us/GPamazon
➜ iBooks: soon
➜ B&N: http://geni.us/GPnook
➜ Kobo: http://geni.us/GPkobo
➜ Google: http://geni.us/GPgoogle
COMING SOON:
Hello Forever
Hello Goodbye, Book 2