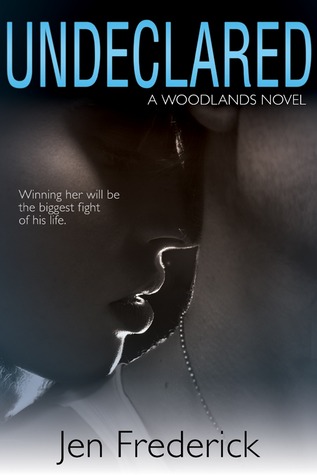 Undeclared
Series: Woodlands, #1
Author: Jen Frederick
Publication Date: April 26, 2013
Publisher: Jen Frederick
Genre: New Adult, Military Romance, Sports Romance, Contemporary
Rating: ★ ★ ★ ☆ ☆
Synopsis:
For four years, Grace Sullivan wrote to a Marine she never met, and fell in love. But when his deployment ended, so did the letters. Ever since that day, Grace has been coasting, academically and emotionally. The one thing she's decided? No way is Noah Jackson — or any man — ever going to break her heart again.

Noah has always known exactly what he wants out of life. Success. Stability. Control. That's why he joined the Marines and that's why he's fighting his way — literally — through college. Now that he's got the rest of his life on track, he has one last conquest: Grace Sullivan. But since he was the one who stopped writing, he knows that winning her back will be his biggest battle yet.
---
Jen Frederick's books have been around for a while, but it's really only been in the past couple of months that I have discovered them. I've loved everything I've read by her so far, so I'm slowly trying to make it through her backlist. Being a fan of college and military romances, I decided the Woodland series would be my next Frederick adventure.
Undeclared is based on a cute concept. Grace met Noah when she began writing him letters in high school. She was a student, and he was deployed with the Marines. They forged a strong connection through their letters. Grace was sure they were falling in love until it was time for Noah to return to civilian life. Noah broke Grace's heart and stopped all communication. Two years later, Noah shows up on Grace's college campus to win back the girl he stupidly let go.
Undeclared was written in first person dual point of view and included some of the correspondence they had while Noah was deployed. Having both their perspectives and their letters gave their love connection while Noah was deployed validity. It also helped make their current situation understandable. I don't know that I would have believed they had both been pining for each other if I didn't get to read both of their thoughts and see how their friends reacted to their actions.
Grace was a really immature character. She was in this holding pattern and kept putting off decisions. Grace was so wishy washy that I never truly connected with her. It felt like she was just waiting for the moment Noah returned to her. I wanted to find fault with this, but then I thought back to being in college. I was guilty of doing some of the same stuff Grace was doing back then. It's embarrassing to admit, but I empathized with her more than I wanted to. Still, that didn't make me fall in love with her character. Grace was a little too whiny and I wished her character had been stronger.
Noah left me conflicted. On one hand, I adored him and his persistence when it came to Grace. He knew he had made a mistake, and he was willing to do whatever it took to prove himself to her. He was an alpha male, but a sweetie when it came to her. On the other hand, I wasn't really a fan of his MMA stuff. I couldn't figure out what his goal really was. Did he want to get his degree and run a chain of yogurt shops or did he want to be an MMA fighter? I know those two things aren't exclusive of each other, but it felt like an odd combination in this story.
Grace and Noah's relationship was full of dramatic ups and down. Sometimes the drama was a little overboard, but for the most part it was very entertaining. I do have to admit that I was shocked at how quickly their story wrapped up. One minute things weren't looking so good. The next they had everything figured out and then, bam, epilogue.
Overall, I enjoyed Undeclared. It was a fun college second chance romance. I loved the theme of the story and the group of friends it introduced me to. I'm going to continue to read this series and get to know their stories.
---
Undressed
Series: Woodlands, #1.5
Author: Jen Frederick
Publication Date: July 25, 2014
Publisher: Jen Frederick
Genre: New Adult, Military Romance, Sports Romance, Contemporary
Rating: ★ ★ ★ ☆ ☆
Synopsis:
Noah and Grace's happy ever after hits a stumbling block in the form of one shady professor threatening Noah's scholarship eligibility. Noah is given the choice of throwing his New Year's MMA fight for a big payoff or accepting that the true meaning of love isn't measured by the thickness of his wallet but the depth of Grace's big heart.

Grace and Noah's story begged for a peak inside their Happy Ever After. Originally published in the anthology Snow Kissed, this holiday novella speaks to the great gifts one person can give to another — unconditional love.
---
Undressed is a continuation of Grace and Noah's relationship from Undeclared. The short novella gives you a look at Grace's home life, Noah's fighting career, and their struggles to overcome Noah's need to provide a lot of money to keep Grace. If you loved Noah and Grace in Undeclared, you will probably love this novella. I liked it, but felt that it ended as abruptly as the first book. The huge time jump in the epilogue also took me by surprise.