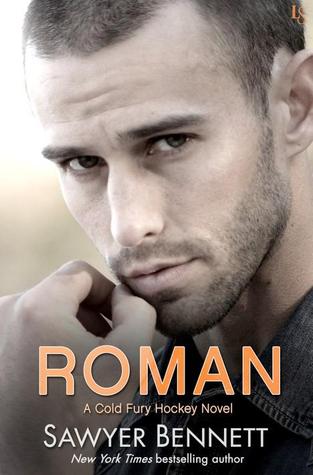 Roman
Series: Cold Fury Hockey, #7
Author: Sawyer Bennett
Publication Date: February 21, 2017
Publisher: Loveswept
Genre: Contemporary, Sports Romance
Note: I received an ARC from the publisher via NetGalley in exchange for an unbiased review.
Rating: ★ ★ ★ ★ ★
Synopsis:
New York Times bestselling author Sawyer Bennett steams up the ice all over again as the Carolina Cold Fury hockey team's hottest bad boy gets his first taste of something good.

In a league full of troublemakers, Cold Fury defenseman Roman Sýkora stands out—at least when it comes to negative publicity. When he's not chilling in the penalty box, the sizzling Czech skate demon is racking up tabloid headlines for his scandalous behavior with the ladies. But now Roman's feeling the burn from management to clean up his act, or else. Luckily he's got an enticing distraction: a fun-loving barista who plays the ukulele and brings out a side of Roman he didn't know he had.

Lexi Robertson came to Raleigh, North Carolina, to finally meet her father, Brian Brannon, and her half sister, Gray, both of whom work in the Cold Fury's front office. That's where she first meets sexy, intimidating Roman—who's really a big softie at heart. As one relationship takes off, another begins: Brian seems to be clicking with Lexi's boss at the coffee shop. But when the friction between Roman and her new family heats up, Lexi wonders whether she's a pawn in their game. Feeling hurt and foolish, Lexi's ready to quit while she's ahead. Trouble is, Roman's not ready to quit on her.
---
Sawyer Bennett is not an author I'm new to, but I am new to her Cold Fury series. I'm shocked I hadn't heard of it before because I'm a big hockey romance fan. I'm so happy I got the chance to try out the series with the seventh book, Roman.
I flew through this book. I basically read it in one sitting. Everything about this story pulled me into it. The writing was so good! I loved the characters and the three different points of view involved. I was expecting Lexi and Roman's point of views, but I wasn't expecting Brian's. Adding his perspective was the perfect touch.
Lexi was this free-spirited girl-woman. I say girl-woman because even though she was an adult, her ability to see the best in everything and go with her gut reminded me more a child than an adult. She was serious when she needed to be, but went where she felt called. I loved everything about her — especially her attraction and connection to Roman.
Roman was a tough shell to crack. He was a bad boy in everything except his relationship with Lexi. His tenderness with her was uncharacteristic. Lexi brought out a side of him he didn't think he had. His self-discovery was sweet. Roman and Lexi balanced each other out in the best way possible.
Brian is Lexi's newly found father. There were two things I really loved about his perspective. First, I loved knowing what he thought of Lexi and the bomb she dropped on him. Second, his second chance at love was adorable. Really adorable.
Roman was book 7 in Cold Fury series, but felt almost like a standalone novel. I enjoyed it without feeling like I was missing too much from previous books. Reading it did make want to go back and read the rest of the series, though. I would love to get to know each of the Cold Fury players.
Fans of hockey or sports romances would definitely appreciate Roman. It's filled with fun hockey, sexy moments and incredible characters.