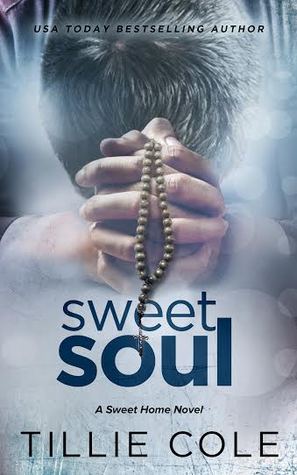 Sweet Soul
Series: Sweet Home, #4
Author: Tillie Cole
Publication Date: December 14, 2015
Publisher: Tillie Cole Ltd
Genre: New Adult, Contemporary, Sports Romance
Rating: ★ ★ ★ ★ ½
Synopsis:
One shy lost soul.
One silent lonely heart.
One love to save them both.

Life has never been easy for twenty-year-old Levi Carillo. The youngest of the Carillo boys, Levi is nothing like his older brothers. He isn't dark in looks or intimidating to everyone he meets. In fact, he's quite the opposite. Haunted by a crippling shyness and the tragic events of his past, Levi spends his days with his head buried in his books, or training hard for his college football team. Too timid to talk to girls, Levi stays as far away as possible and completely on his own… until he saves the life of a troubled pretty blonde, a troubled pretty blonde that might just be the exception to his rule.

Elsie Hall is homeless. Or at least that's all anyone ever sees. Everyday is a fight for survival on the cold streets of Seattle, everyday a struggle to find food and keep warm. Alone in life—a life that's dangerous and cruel—her will to keep going is an ever-losing battle. In her world of silence, Elsie has given up hope that her life will contain anything but constant struggle and pain… until the beautiful boy she has severely wronged comes to her rescue at precisely the right time.

New Adult novel—contains sexual situations and mature topics. Suited for ages 18 and up.
---
I'm so happy that Sweet Hope was not the end of the Sweet Home series, and that little Levi Carillo got his own story. His life throughout the series took some drastic turns. I was excited to get to know his feelings about his past, and who he was to become as an adult. Sweet Soul shed light on what a great guy he was. I was so impressed with his character.
Even though I knew going into reading that Elsie was homeless, I had no idea what her path to homelessness was. Her story was so sad. It made me so happy that she and Levi found each other.
Sweet Soul was such an emotional story. Both Levi and Elsie had been through hell in their young lives. Their stories were different, but the darkness of their pasts gave them an immediate, intense connection. I could understand their how they fell for each other so quickly. They saw themselves in each other. Their relationship was really beautiful. I loved the inner strength they gave each other.
The only tiny complaint I have about Sweet Soul involves the climax and what happens after. There's a party involved, and I would have liked to have known what happened between Levi, Elsie and his friends after it. There wasn't really a resolution to what happened. There was an emotional resolution for Levi and Elsie, but I also wanted one for what happened.
I'm really sad my binge read of the Sweet Home series is finished now that I've read Sweet Soul. I've loved this series so much. At least I have the rest of Tillie Cole's books to read. I think a binge read of her other series will be in the near future.