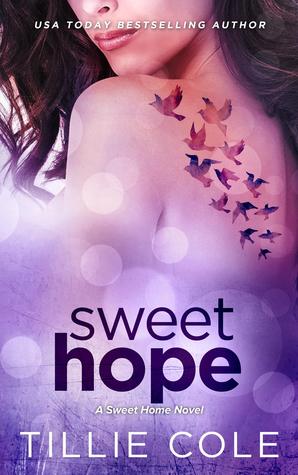 Sweet Hope
Series: Sweet Home, #3
Author: Tillie Cole
Publication Date: March 28, 2015
Publisher: Tillie Cole Ltd
Genre: New Adult, Contemporary Romance
Rating: ★ ★ ★ ★ ★
Synopsis:
My name is Ally Prince and I've always been unlucky in love. I don't know why, I just always… have.

When all of my best friends were falling for their soul mates in College, I was left behind. I was Ally, the pretty cousin of superstar quarterback, Romeo Prince. I was Ally, the best friend to the most amazing group of girls I've ever known—a title I loved, but one I became tired of 'just' being. And I was Ally, the one on which they could all rely.

But to me, I was Ally, the girl with the heart no one had claimed… And I was, Ally, the girl, who underneath it all, was heart-breakingly lonely.

I LOVE love; the thought of it, the nervous excitement of falling for Mr. Right, the desire of someone becoming my entire world… of me becoming theirs. I've always wanted passion, heart-stopping, epic, life-changing romance… I've always wanted the fairytale… I've always wanted it all.

It just never seemed like I would get it.

For the past few years I've thrown myself into my career as a museum curator. I'm the best of the best, the person every museum wants to hire, so when an opportunity came up to move to Seattle, I jumped at the chance. My cousin and my best friend lived in Seattle and I needed a change.

I needed a new beginning.

I wasn't expecting to meet anyone in the Emerald City. I wasn't expecting to work closely with the reclusive new sculptor my all-important gallery design was centered around. And I certainly wasn't expecting to fall for him… heart-stopping, epic, life-changing love…
My real life fairytale come true.

But, like in every fairytale, there's a villain, a dark and tortured soul… I just didn't know that the villain and the hero in my story would end up being one and the same.

New Adult Romance Novel—contains adult content, sexual situations and mature topics. Suited for ages 18 and up.
---
With each book I read in the Sweet Home series, the more impressed with Tillie Cole's writing I become. Each ones gets a little deeper and darker in theme, and pulls me in more and more. Each new book also becomes my favorite in the series.
Sweet Hope was a little different from the first two books in the series. It gave the reader a change of time and scenery. The story no longer took place in college, but in the characters' late 20's. Instead of Alabama, Sweet Hope was set in Seattle. Personally, I loved that change. This Washingtonian could picture the setting in her head.
Another thing I loved about this book was the main characters. I really enjoyed getting to know Ally better in Sweet Hope. She was always the happy, bubbly sorority girl in the previous books. I never would have guessed the depth of her character. It was fun to see another side of her.
I know this book has been out for a while, but I still don't want to give away Ally's love interest. I hadn't read any of the reviews and I was pleasantly shocked. All I'm going to say is that he's a tortured soul who doesn't believe he deserves redemption. His darkness was the perfect contrast to Ally's light. The intensity of their relationship could have set off fireworks. I absolutely loved them together.
I can't leave out that I loved catching up with all of the characters from the previous book, too. It was fun to see where all of them had ended up, and how they were doing. I was surprised to find myself falling deeper in love with Austin (Sweet Fall) in this one.
I don't want to give anything else about this story away. I'll just say it's quickly become my favorite of the series. It's definitely one you should experience yourself — just make sure you read the first two books in the series first. You don't want to miss out anything this series has to offer. It's pretty dang amazing!