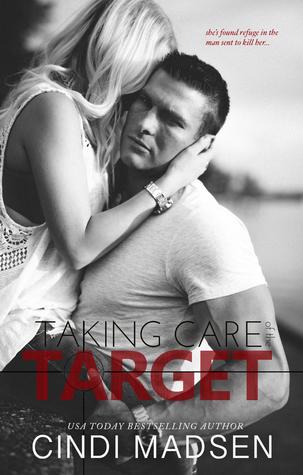 Taking Care of the Target
Author: Cindi Madsen
Publication Date: January 23, 2017
Genre: New Adult, Romantic Suspense, Contemporary
Note: I received an ARC from the publisher via NetGalley in exchange for an unbiased review.
Rating: ★ ☆ ☆ ☆ ☆
Synopsis:
Vince DaMarco always liked Cassie, the shy waitress who works at the restaurant that serves as a front for his mob boss uncle. Unfortunately, she witnesses a back alley hit, and while fleeing, she's struck by a truck. Now she's at the top of the hit list. Desperate to stop anyone who'd draw out Cassie's death, Vince volunteers to take care of it.

Cassie Dalton has no recollection of her accident, but she's told she's lucky to be alive. A few years are missing from her memory, and the unsettling feeling that something isn't right—along with the creepy sensation that she's being watched—won't go away.

Vince shows up right when Cassie needs him most. In a world of confusion, the rugged stranger is the one thing that makes sense. But little does she know, she's found refuge in the arms of the very man who's been sent to kill her.
---
This is a difficult review to write. I wanted to love Cindi Madsen's new release, Taking Care of the Target, but I had a hard time reading it. The writing was good — I just never connected with the characters or the mob-related story. I tried several times. I would put it down, and then come back later to see if it was a mood I was in or something. Sadly, I just wasn't pulled in enough by a third of the way through to care about what was going on or to have a desire to finish reading it. I wish that wasn't true. I have no doubt Taking Care of the Target will speak to other romantic suspense reader, but it just wasn't for me.