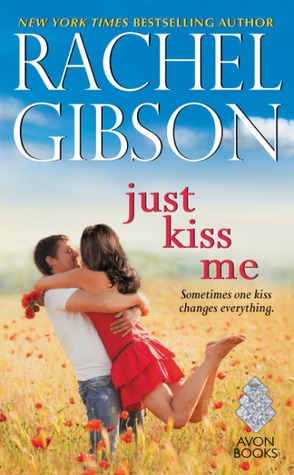 Just Kiss Me
Author: Rachel Gibson
Publication Date: July 26, 2016
Publisher: Avon
Genre: Contemporary Romance
Rating: ★ ★ ★ ☆ ☆
Synopsis:
New York Times bestselling author Rachel Gibson returns with this dazzling love story filled with sizzle, sass, and just a bit of southern charm…

"Hello, Ms. Vivian . . . it's been a long time."

And with those words, Vivian Leigh Rochet nearly melted. It's been years since she last saw Harrison Whitley-Shuler. She was a teenager scrubbing houses for a living. He was the gorgeous son of rich parents, not fit for the likes of her.

Vivian had vowed to get out of Charleston, become a big Hollywood star, and stick it to the snooty girls who made her cry.

She got what she wanted—and more—but why does her glamorous life seem so trivial?

Harrison got out too . . . making it all the way to Wall Street, until a heart attack forced him to trade in his cufflinks for a good set of hand tools.

Making furniture soothes his soul, but escaping the Whitley-Shuler heritage is nearly impossible. And now he's come face-to-face with the one who got away. He's not looking for love. He's not even looking for sex . . . so why is resisting her the hardest thing he's ever done?
---
Rachel Gibson is one of the first contemporary romance writers I fell in love with when I became an adult. She combines humor with a touch of Southern charm that makes her romances stand out from the pack. It's been a while since she released a new book, so I was excited to read Just Kiss Me.
Just Kiss Me was a solid contemporary romance. It had witty dialog and the Southern charm I look for in Rachel Gibson's books. The plot was cute and filled with super sexy moments. It should have been another knock out book from Gibson for me, but there were a couple of things that didn't gel with me.
I had a hard time connecting with Vivian. There was something about her didn't like. It was hard for me to pinpoint at first, but I think it was her personality. I had a hard time connecting the entitled starlet with insecurity issues to the somewhat nasty little girl in her journal entries. The entries tried to create a enemies to lovers connection between Vivian and Henry, but instead they made me wonder if the adult Vivian could really be who she seemed to be. It also left me with questions of what happened between her adolescence and adult lives. I felt like I was missing a big piece of Vivian's story.
The other thing that I wasn't fond of was the overly dramatic turn of events the story was based on. It was too convoluted. Not that it didn't work, it did. It just wasn't realistic or maybe even needed. The romance between Vivian and Henry would have worked without it.
My favorite thing about Just Kiss Me was the relationship between Vivian and Henry. Their dislike for each other and confusion about their attraction to each other was fun. It made their initial sexual encounter explosive. I could feel their connection and liked them together.
Even though this wasn't my favorite Rachel Gibson romance, I would still recommend it to readers who love contemporary romances. It has a complex plot that will keep you captivated to the very end and a romance that will make you swoon.