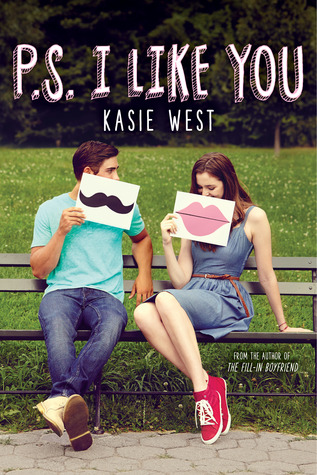 P.S. I Like You
Author: Kasie West
Publication Date: July 26, 2016
Publisher: Scholastic Inc
Genre: Young Adult, Contemporary Romance
Rating: ★ ★ ★ ★ ★
Synopsis:
Signed, sealed, delivered…

While spacing out in chemistry class, Lily scribbles some of her favorite song lyrics onto her desk. The next day, she finds that someone has continued the lyrics on the desk and added a message to her. Intrigue!

Soon, Lily and her anonymous pen pal are exchanging full-on letters—sharing secrets, recommending bands, and opening up to each other. Lily realizes she's kind of falling for this letter writer. Only, who is he? As Lily attempts to unravel the mystery and juggle school, friends, crushes, and her crazy family, she discovers that matters of the heart can't always be spelled out…
---
Why did I wait to read this book? No, seriously, why? I adore Kasie West's books. I'm not sure what had me waiting so long, but I'm mad at myself because P.S. I Like You was so much fun to read.
I have to admit the entire time I was reading this book, I was enjoying it but it wasn't standing out as much as Kasie West's other books. The writing was just as amazing. The story was just as cute. My issue was I didn't fall in love with Lily as quickly as I have done with all of Kasie West's other main characters.
Lily was one of those quirky YA leading ladies. She didn't dress like everyone else, was into different music and saw herself as an outcast. I have to admit that all of this combined with her attitude didn't make her my favorite character. She used all of the reasons she found herself lacking to judge people she deemed popular. Lily had a cool edge that could have made her a cool person, but instead her attitude made her standoffish. Luckily, this was a coming of age novel where she could grow and learn that people didn't see her as she saw herself. By the end, I really liked who Lily had become and I loved how she got there.
I may not have immediately fallen in love with Lily, but I did with the rest of the characters. Even though P.S. I Like You was written solely from Lily's perspective, I loved how I could still tell how other characters were feeling or what they were thinking. They gave so much insight into how the world truly saw Lily. Isabel and Cade were my favorite of the group, but I also enjoyed Lily's entire family. They were full of love and fun shenanigans.
By the time I got to the end of P.S. I Like You, I was in love with everything this book had to offer. It had an amazing lesson in how there is more to people than what they present to you. There was also one of the cutest love stories and endings ever. P.S. I Like You was so much fun. If you're a fan of adorable YA contemporaries, this one is for you!