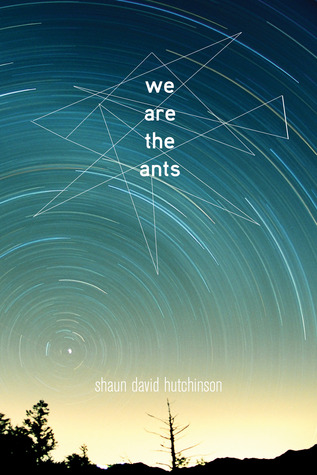 We Are the Ants
Author: Shaun David Hutchinson
Publication Date: January 19, 2016
Publisher: Simon Pulse
Genre: Young Adult, Science Fiction, GLBT, Contemporary
Rating: ★ ★ ★ ★ ★
Synopsis:
There are a few things Henry Denton knows, and a few things he doesn't.

Henry knows that his mom is struggling to keep the family together, and coping by chain-smoking cigarettes. He knows that his older brother is a college dropout with a pregnant girlfriend. He knows that he is slowly losing his grandmother to Alzheimer's. And he knows that his boyfriend committed suicide last year.

What Henry doesn't know is why the aliens chose to abduct him when he was thirteen, and he doesn't know why they continue to steal him from his bed and take him aboard their ship. He doesn't know why the world is going to end or why the aliens have offered him the opportunity to avert the impending disaster by pressing a big red button.

But they have. And they've only given him 144 days to make up his mind.

The question is whether Henry thinks the world is worth saving. That is, until he meets Diego Vega, an artist with a secret past who forces Henry to question his beliefs, his place in the universe, and whether any of it really matters. But before Henry can save the world, he's got to figure out how to save himself, and the aliens haven't given him a button for that.
---
Before I start this review, I must thank Kelly @ Here's to Happy Endings for sharing her ARC of We Are the Ants with me. If she hadn't passed this book onto me, I might not have read it and that would have been a travesty.
When I began reading We Are the Ants, I was immediately confused and unsure if this book was going to be for me. Science fiction isn't normally my preferred reading genre, and there were some pretty big science fiction-y things happening right away. Normally, that probably would have bored me, but it didn't. We Are the Ants enthralled me the entire time I was reading it. The author's writing and storytelling were brilliant. I read it in one evening. That's how good this book was. A non-science fiction reader couldn't put it down.

I absolutely loved the cast of characters. Henry was a boy on the brink of manhood. Life was tough for him to begin with and being abducted by aliens didn't help. The added pressure of trying to decide whether to save the world or not compounded his already stressful existence.
Henry's relationship with his family a big part of this story. His family wasn't as easy to love as Henry was, but the more I got to know them the more they grew on me. It took me a long time to understand their motivations and opinions. Their lack of support for Henry at times frustrated me, especially his mother. I wanted to give her a good shake a couple of times.
The other characters that had a large part in this story were Henry's classmates. I had a love-hate relationship with them. I loved what they brought to the story, but I hated pretty much all of them. They were a true representation of what kids can be like when presented with someone who doesn't fit the mold.
We Are the Ants was a beautiful and thought-provoking coming of age novel. It touched on so many issues that will resonate with today's youth and adults alike. If you haven't already read it, I would highly recommend doing so.