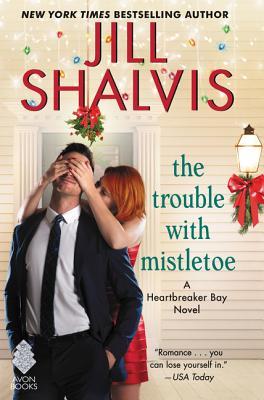 The Trouble with Mistletoe
Series: Heartbreaker Bay, #2
Author: Jill Shalvis
Publication Date: September 27, 2016
Genre: Contemporary Romance
Note: I received an ARC from the author in exchange for an unbiased review.
Rating: ★ ★ ★ ★ ☆
Synopsis:
If she has her way …

Willa Davis is wrangling puppies when Keane Winters stalks into her pet shop with frustration in his chocolate-brown eyes and a pink bedazzled cat carrier in his hand. He needs a kitty sitter, stat. But the last thing Willa needs is to rescue a guy who doesn't even remember her …

He'll get nothing but coal in his stocking.

Saddled with his great-aunt's Feline from Hell, Keane is desperate to leave her in someone else's capable hands. But in spite of the fact that he's sure he's never seen the drop-dead-gorgeous pet shop owner before, she seems to be mad at him …

Unless he tempers "naughty" with a special kind of nice …

Willa can't deny that Keane's changed since high school: he's less arrogant, for one thing—but can she trust him not to break her heart again? It's time to throw a coin in the fountain, make a Christmas wish—and let the mistletoe do its work …
---
The Trouble with Mistletoe is a Christmas romance set in Jill Shalvis' new Heartbreak Bay series. It's almost a second chance romance. The characters, Willa and Keane, went to the same high school. When they run into each other in Willa's pet shop, sparks fly. Neither are looking for a relationship, but they can't deny their connection.
If you're a contemporary romance fan and haven't read one of Jill Shalvis' novels or are looking to start reading adult contemporary romances, I would highly suggest starting with this author. Her stories are fun, witty and filled with quirky characters. Her books always make me smile and laugh.
The Trouble with Mistletoe did both of those things. Willa was a character who something funny or crazy was always happening to. It was hard not to laugh at the situations she found herself in. She was always trying to save others — people and animals — but she usually ended up being the one who needed saving. Willa had such a big heart. Keane was a lot more reserved than Willa. He tried to avoid love. Keane had a wall built around his heart due that only Willa and Petunia seemed to be able to crack.
The characters who really stole the show in The Trouble with Mistletoe were the animals. They all had such big personalities and created such mischief! I loved that the author included them in this story. It reminded me of her Animal Magnetism series, which I loved.
The only thing I felt The Trouble with Mistletoe was lacking was maybe a bigger conflict. I was waiting for a big something between Keane and Willa. Their conflict was relatable, but didn't stand out that much. In a way I liked that since it was a Christmas story, but I also wanted something a little more dramatic.
Overall, The Trouble with Mistletoe was a really fun Christmas-time romance. I would highly recommend it if you're looking for a fun and light holiday read.