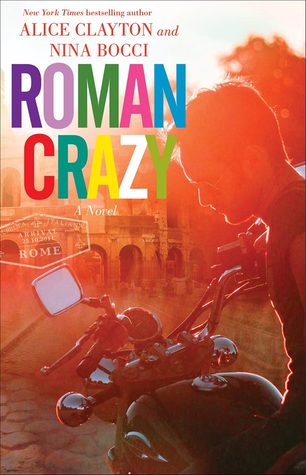 Roman Crazy
Series: Broads Abroad, #1
Authors: Alice Clayton & Nina Bocci
Publication Date: September 13, 2016
Genre: Contemporary Romance
Rating: ★ ★ ★ ★ ★
Synopsis:
Avery Bardot steps off the plane in Rome, looking for a fresh start. She's left behind a soon-to-be ex-husband in Boston and plans to spend the summer with her best friend Daisy, licking her wounds—and perhaps a gelato or two. But when her American-expat friend throws her a welcome party on her first night, Avery's thrown for a loop when she sees a man she never thought she'd see again: Italian architect Marcello Bianchi.

Marcello was the man—the one who got away. And now her past is colliding with her present, a present where she should be mourning the loss of her marriage and—hey, that fettuccine is delicious! And so is Marcello…

Slipping easily into the good life of summertime in Rome, Avery spends her days exploring a city that makes art historians swoon, and her nights swooning over her unexpected what was old is new again romance. It's heady, it's fevered, it's wanton, and it's crazy. But could this really be her new life? Or is it just a temporary reprieve before returning to the land of twin-set cardigans and crustless sandwiches?

A celebration of great friendship, passionate romance, and wonderful food, Roman Crazy is a lighthearted story of second chances and living life to the fullest.
---
Contemporary romances readers — Get ready for a new favorite series!
I absolutely loved Alice Clayton and Nina Bocci's Roman Crazy. I've read collaborations before, but never have I read a collaboration without dual points of view. Avery was the sole narrator in Roman Crazy. Alice Clayton and Nina Bocci's writing melded together so fluently it read like it was written by one person. I was so impressed!
Another thing that impressed me about Roman Crazy was the setting. The authors made Rome feel like one of the characters. I could easily imagine the streets and buildings. I've never thought about traveling to Rome, but this book has me tempted!
Avery was a really great character going through a mid-life crisis. Leaving behind her almost ex-husband opened her eyes to how she was truly living life. She quickly discovered who she was might not be the person she wanted to be. Running away to Rome and reuniting with Marcello added even more depth to her discovery. It allowed her to come to terms with her decisions over the past ten years and fight for what she really wanted for herself.
I adored Avery and Marcello's love affair. No matter how complicated Avery's life was at the moment, their relationship felt simple. They connected in a sweet, but carnal way. Marcello got her in a way no one else did. Their second chance at love made me so happy!
There were also some really interesting twists along the way for readers. I have to admit I was a little surprised by some of the revelations that both Avery and Marcello made toward the end of the book.
Obviously, I was enchanted by Roman Crazy. It was so much fun to read. I would highly recommend it to readers who enjoy humorous second chance romances.