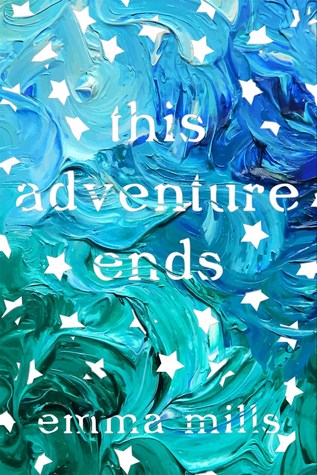 This Adventure Ends
Author: Emma Mills
Publication Date: October 4, 2016
Genre: Young Adult, Contemporary Romance
Note: I received an ARC from Henry Holt & Co. via NetGalley in exchange for an unbiased review.
Rating: ★ ★ ★ ★ ☆
Synopsis:
Sloane isn't expecting to fall in with a group of friends when she moves from New York to Florida—especially not a group of friends so intense, so in love, so all-consuming. Yet that's exactly what happens.

Sloane becomes closest to Vera, a social-media star who lights up any room, and Gabe, Vera's twin brother and the most serious person Sloane's ever met. When a beloved painting by the twins' late mother goes missing, Sloane takes on the responsibility of tracking it down, a journey that takes her across state lines—and ever deeper into the twins' lives.

Filled with intense and important friendships, a wonderful warts-and-all family, shiveringly good romantic developments, and sharp, witty dialogue, this story is about finding the people you never knew you needed.
---
This Adventure Ends is a coming of age story about friendship and how far friends will go to be there for each other. High school senior Sloan has just moved to Florida with her family. She's hoping to fly under the radar like she did at her old school, but she immediately secures her place in a close-knit group of friends when she defends one of them against a bully.
To be honest, this book was incredibly fun to read, but there were some little things that bugged me along the way. It was almost too character driven. I wondered where the story was headed the entire time because of the adventure mentioned in the book's title. The adventure seemed to be lying beneath the surface, and I wanted it to pop out at me. I expected it to be an epic adventure. What I got was a mission to find a painting intertwined with a wishy-washy main character who constantly distanced herself from everyone. I guess I just expected more from the adventure part. It wasn't until the climax of the story that the true meaning of the story jumped out at me. (It was definitely an "ah-ha" moment!) But that didn't mean that I didn't love or enjoy the reading experience.
Sloan was an incredibly witty character. I loved her dialog and banter. I would have wanted to bring her into my group of friends in high school, too. She didn't realize she was cool, though. Sloan couldn't seem to commit to anything. She wouldn't admit she wanted a future in singing, that she wanted friends, or that she loved the move to Florida. She was afraid of it all. It made her character feel wishy-washy and kind of blah at times.
All of Sloan's new friends were entertaining to read about. I loved Vera and Gabe. The twins were so different, but each had something different to contribute to Sloan's life. The same could be said of Remy, Audrey and Brie. They were such a great supporting cast.
I can't leave out my favorite character of or favorite thing about This Adventure Ends. Frank Sanger of Frank Sanger Presents was my favorite person/thing in this entire book. I loved every situation and conversation that included him. I found myself eagerly anticipating every part that included him. He made me so happy! I want a book all about Frank Sanger. He was for all people. He was for me.
This Adventure Ends was a book I truly enjoyed reading. There were so many amazing moments and characters in it. I know other readers are going to love this book and the message it sends. This Adventure Ends is a book I would recommend to YA contemporary readers. (Plus, everyone needs to experience the awesomeness that is Frank Sanger!)