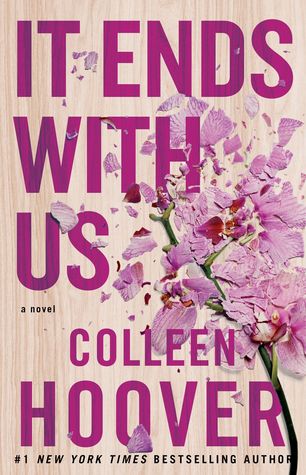 It Ends with Us
Author: Colleen Hoover
Publication Date: August 2, 2016
Genre: New Adult, Contemporary Romance
Note: This is a *SPOILER FREE* review.
Rating: ★ ★ ★ ★ ★
Synopsis:
Lily hasn't always had it easy, but that's never stopped her from working hard for the life she wants. She's come a long way from the small town in Maine where she grew up—she graduated from college, moved to Boston, and started her own business. So when she feels a spark with a gorgeous neurosurgeon named Ryle Kincaid, everything in Lily's life suddenly seems almost too good to be true.
Ryle is assertive, stubborn, maybe even a little arrogant. He's also sensitive, brilliant, and has a total soft spot for Lily. And the way he looks in scrubs certainly doesn't hurt. Lily can't get him out of her head. But Ryle's complete aversion to relationships is disturbing. Even as Lily finds herself becoming the exception to his "no dating" rule, she can't help but wonder what made him that way in the first place.
As questions about her new relationship overwhelm her, so do thoughts of Atlas Corrigan—her first love and a link to the past she left behind. He was her kindred spirit, her protector. When Atlas suddenly reappears, everything Lily has built with Ryle is threatened.
---
I'm going to answer what I know you all are wondering and get it out-of-the-way: Was It Ends with Us worth all of the hype?
Short answer:
YES! READ IT NOW!
Long answer:
For the past several months, there has been a bunch of hype surrounding the release of It Ends with Us. If you're a fan of Colleen Hoover or have been hanging around the book blogosphere I'm sure you've seen it. I have. To be honest, I've tried to avoid reading most of it. I have purposefully not read most quotes, excerpts or reviews because I didn't want to know. If CoHo posted what someone said about the book on social media, I read the first sentence and moved on. I wanted to go into this book blind. I trusted in CoHo's ability to move me.
I'm so happy I did. It Ends with Us was an extremely emotional journey. Every reader's experience will be different. This story may not be your story, but you will be able connect something in it to your own life. I know I did — a few times.
It Ends with Us attacks situations, thoughts and feelings that are so very real. Some you might have thought about before, others probably not. This book plays on your emotions. It gives you empathy when you least expect it. It's real, honest and raw. It opens your eyes to things you might not have thought about before. And when it's all said and done, you're left with a powerful message. It's a message everyone, man and woman, should hear.
So, yes, It Ends with Us is worth all the hype. I obviously loved it. It was beautifully written and highly influential. It's Colleen Hoover at her best. It Ends with Us should be bumped up your list of books to read or added to it. Reading it is an experience everyone should have.
The only other thing I'm going to add is that the title, It Ends with Us, is pure genius. I'm going to think of the book and it's meaning every time I hear it. I love that.