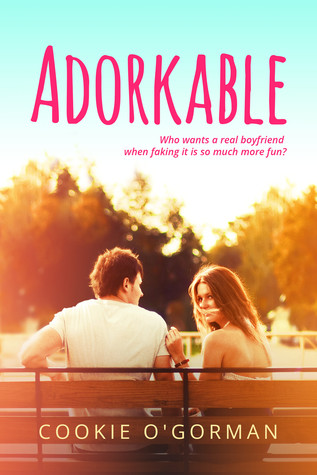 Adorkable
Author: Cookie O'Gorman
Publication Date: March 31, 2016
Genre: Young Adult, Contemporary Romance
Rating: ★ ★ ★ ★ ★
Synopsis:
Adorkable (ah-dor-kuh-bul): Descriptive term meaning to be equal parts dorky and adorable. For reference, see Sally Spitz.

Seventeen-year-old Sally Spitz is done with dating. Or at least, she's done with the horrible blind dates/hookups/sneak attacks her matchmaking bestie, Hooker, sets her up on. There's only so much one geek girl and Gryffindor supporter can take.

Her solution: she needs a fake boyfriend. And fast.

Enter Becks, soccer phenom, all-around-hottie, and Sally's best friend practically since birth. When Sally asks Becks to be her F.B.F. (fake boyfriend), Becks is only too happy to be used. He'd do anything for Sal–even if that means giving her PDA lessons in his bedroom, saying she's "more than pretty," and expertly kissing her at parties.

The problem: Sally's been in love with Becks all her life–and he's completely clueless.

This book features two best friends, one special edition Yoda snuggie, countless beneath-the-ear kisses and begs the question:

Who wants a real boyfriend when faking it is so much more fun?
---
I honestly can't believe Adorkable is Cookie O'Gorman's début novel. Seriously? The writing was brilliant. It didn't feel like a début at all! It may have bordered on slighty corny at times, but it was so much fun I didn't care. Plus, it had my most favorite relationship trope ever: best friends to lovers (or best friends to dating because there's no lovers in this YA novel).
I absolutely adored the story and the main characters. Sally was this geeky girl who didn't mind not being the most beautiful or popular girl in the room. She kept her eye on the future and what she wanted. Her only little insecurity was the crush she had on her best friend, Becks. She didn't think he would ever like her as more than a friend, so he seemed like the safest choice as her fake boyfriend. Sally just didn't think the "pretending" would be so hard or make her want him even more.
Becks was the most popular and gorgeous guy in school. He could (and maybe did) have any girl of his choice, but he was totally willing to help Sally out. Becks had his own reasoning for being Sally's fake boyfriend, but he truly would have done anything for her. He wasn't just some popular athlete, he was a good guy and an amazing friend.
As for the other characters in the story…There was one I have to talk about. I couldn't stand Sally's other best friend, Hooker. I had major problems with her. She wasn't a good friend at all. She obviously didn't respect Sally's thoughts or believe in her enough to allow Sally to find a boyfriend on her own — if she wanted one. I get that Hooker wanted Sally to be happy, but she had a really poor way of showing it. She made me so mad! But without her, the story wouldn't have been quite as funny. Some of those dates…
Adorkable was everything I love in a YA Contemporary Romance. It was an upbeat, funny and fast-paced read. I read it in one evening — it was that good! It kept me smiling from beginning to end. If you enjoy YA contemporary romances, you should definitely check out this book. Cookie O'Gorman will be going on my YA must read list with Kasie West, Miranda Kenneally, Sarah Dessen and Ali Novak. I'm going to be keeping my eye out for her next release. I don't want to miss it!