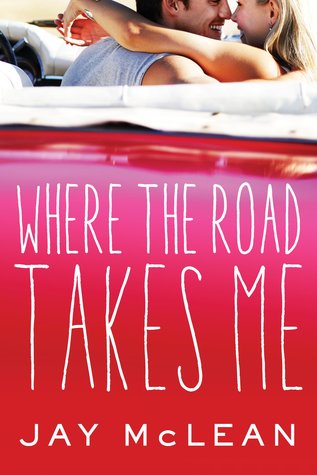 Where the Road Takes Me
Author: Jay McLean
Publication Date: February 10, 2015
Genre: Young Adult, Contemporary Romance
Rating: ★ ★ ★ ★ ☆
Synopsis:
Chloe has one plan for the future, and one plan only: the road. She's made a promise to herself: don't let anyone in, and don't let anyone love her. She's learned the hard way what happens if she breaks her rules. So she's focused on being invisible and waiting until she can set out on the road—her dream of freedom, at least for a little while.

Blake Hunter is a basketball star who has it all—everything about him looks perfect to those on the other side of his protective walls. He can't let anyone see the shattered pieces behind the flawless façade or else all his hopes and dreams will disappear.

One dark night throws Chloe and Blake together, changing everything for Blake. For Chloe, nothing changes: she has the road, and she's focused on it. But when the so-called perfect boy starts to notice the invisible girl, they discover that sometimes with love, no one knows where the road may lead.
---
Sadly, I've had Where the Road Takes Me sitting on my Kindle for over a year now. I'm not sure why I hadn't read it yet. I read Kick Push and Coast, which technically come after Where the Road Takes Me. I love Jay McLean's writing so it just doesn't make sense. Luckily, my favorite Goodreads group decided to buddy read it. I'm angry I put off reading it for so long, but happy I've finally read it!
Where the Road Takes Me is a book about valuing yourself, what you want out of life and making the tough decisions that will get you there. It's filled with impressive writing and characters who feel like real people.
Chloe is a foster child who's purposefully kept herself guarded. She's avoided making friends because she knows she won't be around for long. Her personal story was sad, but made even sadder by the choices she made. I loved C-Lo, but was so irritated with her most of the time! She had a major avoidance issue. I wanted to shake her!
Everyone assumed Blake was living the dream. He was a talented basketball player who ruled the school. He lived in a nice house. But Blake's life wasn't what it seemed. He was going to have to choose a path after graduation: the one he wanted or the one that was expected of him. The pressure was slowly killing him. I loved Blake — most of the time. His decisions concerning Hannah drove me batty.
One of my favorite things about Where the Road Takes Me was finally getting to know Blake and Chloe's story. I knew bits and pieces about their past from Kick Push, but this book was so much more!  I had no clue what their story really was.
I absolutely loved Blake and Chloe together. This is when they shined. They truly brought out the best in each other. There were so many sweet and swoonworthy moments between them. It was cool how their relationship with each other brought them closer to their families.
My other favorite part of this book was Josh. He made me laugh so much! The nicknames he came up with were hilarious! Plus, he was such a good friend to Blake. I also loved getting a glimpse back to his life before Kick Push and Coast. Now wish I had read this book before Kick Push. I can see why Jay McLean went on to write two books about Josh.
I would highly recommend Where the Road Takes You and any of Jay McLean's other books. She writes beautiful, touching stories that are so much fun to read.