Top Ten Tuesday is an original weekly feature created at The Broke and the Bookish. This week's theme is Top Ten Books Top Ten Books I Enjoyed That Have Under 2000 Ratings On Goodreads. 
---
1. OC Me by Kristin Albright
(45)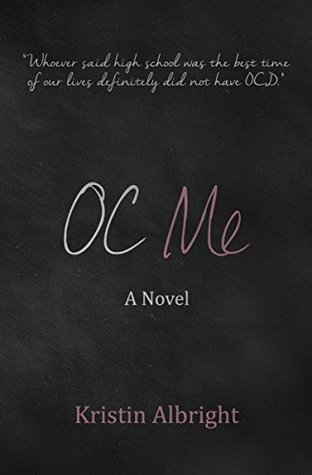 "Whoever said high school was the best time of our lives definitely did not have OCD."
Amy's senior year of high school is not going as planned. When a tragic accident leaves her favorite aunt unconscious in the intensive care unit, all of her goals suddenly seem trivial.
In the days and weeks that follow the accident, irrational fears begin to flood Amy's mind. Embarrassed, she keeps them to herself, lying to everyone – including her best friend Kat – to cover her strange behavior. Because how do you explain something you don't understand yourself?
When James, a boy with a contagious smile, starts spending time with her, she wishes she could just be herself again: a carefree artist with aspirations to get a scholarship to State. But as the unwelcomed thoughts escalate, Amy finds herself unsure of everything.
When Amy learns she has OCD, she begins a journey of self-discovery which will shape the rest of her life. It all starts with admitting something so simple but so difficult – the truth.
---
2. Calm Like Home by Kaisa Clark
(61)
 Alexa Clausen has never fallen. She's never soared. She's lived her entire life floating midway between passion and despondency, never experiencing those extremes. But all it takes is one evening with Adam Westbrook to draw her out of her shell, to leave her feeling bold for the first time ever. He is fiery and magnetic. He is gravitational, that inescapable pull no one can avoid. After a few chance encounters, Alexa finally accepts that she can't stay away, can't deny the electricity she feels every time he comes around.
But as the intensity between them deepens, she also can't avoid the subtle hints that Adam is hiding something. His wide smile and radiant eyes obscure some burning secret, some detail of his past that resurfaces to steal his joy. The farther Alexa falls, the more she realizes just how little she really knows about Adam and how far he is willing to go to cover up the truth.
Calm Like Home is a story about love and longing, growth and stagnation, discovering one's counterpart but losing oneself, and ultimately finding that one person truly has the power to change everything.
---
3. That Girl, Darcy by James Ramos
(114)
 IT IS A TRUTH UNIVERSALLY ACKNOWLEDGED that geeky guys never get to date the pretty girls with permanent scowls.
To Elliott Bennett, life is simple. It's all parties, skateboarding, and arguing over who would win in a fight between Hulk and Superman with his friends. It's his senior year, and he wants nothing more than to soak up his final year of freedom before real life begins.
That is, until Darcy Fitzwilliam and her best friend Bridget move in to the only mansion in the neighborhood. When Elliot meets Darcy at a party, he finds out that she isn't into skateboarding (which he lives for), she hates science-fiction (which he loves), and she thinks his friends are a pack of morons (which, honestly, might be half true)—and yet, there's something irritatingly intriguing about her.
When Elliot's cousin Jake starts to date her friend Bridget, it complicates Elliot's plans to ignore the scowling Darcy for the rest of the year. Why is Darcy so . . . ugh? Elliott doesn't know, but for some reason, is determined to find out—even if she doesn't know the difference between Star Trek and Star Wars.
---
4. Spanish Lessons by Jessica Peterson
(150)
 Vivian Bingley has big plans for her semester abroad in Spain…
Along with her BFF, Maddie, Vivian hopes to indulge her inner Art History nerd by visiting the best museums in the world. She also wants to tackle more practical concerns—like a less than stellar GPA in her major, Economics—with the help of a Spanish tutor.
But falling for her studly Spanish tutor definitely isn't one of them.
Madrileño Rafa Montoya is the stuff study abroad dreams are made of: super studly and super smart. He also happens to be super into Vivian. With his wicked dancing skills and his passion for the arts, he tempts her to throw caution to the wind and live out her wildest dreams.
Only problem? Maddie wants Rafa, too, and Vivian promised herself she'd never settle for second best again…not after a hookup-gone-awry last semester left her heartbroken. Is it best for Vivian to protect her heart at all costs? Or is letting Rafa in worth the risk?
This book is a New Adult contemporary romance, suitable for mature audiences.
---
5. My Perfect Mistake by Kelly Siskind
(321)
 What happens in Aspen
is definitely not staying in Aspen. . .
A girls' trip to Aspen was exactly what Shay needed to forget about her toxic ex-boyfriend. She's got her girls, pristine slopes for skiing, and hot guys everywhere. Of course, her epic self-rediscovery goes completely to hell when a wild (and deliciously hot) skier knocks Shay on her ass . . . and war is declared.
Kolton doesn't know what it is about Shay that makes him lose it. Not just his cool—although she does have an unholy gift for that—but his restraint. When anger gives way to explosive chemistry, they're both shaken with the intensity of it. But somewhere between lust and hate, Kolton and Shay realize they could have something real . . . if they don't kill each other first.
---
6. In Your Dreams by Ginger Scott
(333)
 Casey Coffield has a growing list of personal flaws he keeps locked away in his head:
He's never on time.
His list of IOUs to his best friend is endless.
Money is always short.
Goals are never in reach.
Oh, and he's decided to add college drop-out to that list, too. He doesn't really think that last one's such a bad thing, but his family insists it is, so it stays on the list.
On paper, he's a zero. But in person, when he's mixing tracks for a sea of bodies at the hottest clubs and parties, he's downright irresistible. Just-right stubble on his chin, body of a boxer and a smirk that stimulates all the right nerves—women have never been a problem. They flock to his swagger and fall for his charm…fast.
All except for this one.
Purple hair, gray eyes, a raspy voice and sass, Murphy Sullivan is a little bit country and a little bit rock-n-roll. And her and Casey? They have history. He can't remember it, but she wrote a song about him—and it's not exactly a love song. But it is good. Damn good. And uncovering her inspiration just might be the key to solving a few of his shortcomings—not to mention open doors to his own big break in the music industry.
But sometimes dreams get messy when they collide. Sometimes life changes patterns. A past paints the wrong picture and futures get cloudy. The only question that remains is who will you choose when the dust settles—you? Or the girl of your dreams?
** This book is a Falling Series spin-off. It can be read as a standalone. **
---
7. What Remains of Me by Alison Gaylin
(529)
 The USA Today bestselling author of the Brenna Spector series returns with her most ambitious book to date, a spellbinding novel of psychological suspense, set in the glamorous, wealthy world of Hollywood—a darkly imaginative and atmospheric tale of revenge and betrayal, presumed guilt and innocence lost, dirty secrets and family ties reminiscent of the bestsellers of Laura Lippman, Gillian Flynn, and Harlan Coben.
Nobody's perfect. Everybody's got a drawer somewhere with something hidden in it.
On June 28, 1980—the hottest night of the year—Kelly Michelle Lund shoots and kills Oscar-nominated director John McFadden at a party in his home. . . . And instantly becomes a media sensation, her chilling smile fodder for national nightmares. For years, speculation swirls over the enigmatic seventeen-year-old's motives, information she's refused to share. Convicted of the murder, she loses her youth and her freedom—but keeps her secrets to herself.
Thirty years later—and five years after her release from prison—the past has come back to haunt Kelly. Her father-in-law, movie legend Sterling Marshall, is found in a pool of blood in his home in the Hollywood Hills—dead from a shot to the head, just like his old friend John McFadden.
Once again, Kelly is suspected of the high profile murder. But this time, she's got some unexpected allies who believe she's innocent—of both killings—and want to help her clear her name. But is she?
Written with masterful precision and control, What Remains of Me brilliantly moves forward and back in time, playing out the murders side by side—interweaving subtle connections and peeling away layers of events to reveal the shocking truth.
---
8. The Year We Fell Apart by Emily Martin
(839)
Few things come as naturally to Harper as epic mistakes. In the past year she was kicked off the swim team, earned a reputation as Carson High's easiest hook-up, and officially became the black sheep of her family. But her worst mistake was destroying her relationship with her best friend, Declan.
Now, after two semesters of silence, Declan is home from boarding school for the summer. Everything about him is different—he's taller, stronger…more handsome. Harper has changed, too, especially in the wake of her mom's cancer diagnosis.
While Declan wants nothing to do with Harper, he's still Declan, her Declan, and the only person she wants to talk to about what's really going on. But he's also the one person she's lost the right to seek comfort from.
As their mutual friends and shared histories draw them together again, Harper and Declan must decide which parts of their past are still salvageable, and which parts they'll have to let go of once and for all.
---
9. Living with Regret by Lisa De Jong
(1,123)
 I had my whole life mapped out. Perfect guy. Perfect friends. Everything was exactly the way I wanted it.
That was until that night–the one I can't remember. It's all my fault, and now the memories are all I have left of him. Of us.
My guilt drowns me until Sam Shea steps back into my life and helps me to the surface. He slowly opens my heart and crawls deep inside before I even realize what's happening. I know I don't deserve him.
While I'm trying to get used to my new life, pieces of that night slowly start to come back to me. Lies and secrets shatter everything I thought I knew.
Maybe I'm not the only one living with regret.
---
10. The Ghosts of Heaven by Marcus Sedgwick
(1,894)
 A bold, genre-bending epic that chronicles madness, obsession, and creation, from the Paleolithic era through the Witch Hunts and into the space-bound future.
Four linked stories boldly chronicle madness, obsession, and creation through the ages. Beginning with the cave-drawings of a young girl on the brink of creating the earliest form of writing, Sedgwick traverses history, plunging into the seventeenth century witch hunts and a 1920s insane asylum where a mad poet's obsession with spirals seems to be about to unhinge the world of the doctor trying to save him. Sedgwick moves beyond the boundaries of historical fiction and into the future in the book's final section, set upon a spaceship voyaging to settle another world for the first time. Merging Sedgwick's gift for suspense with science- and historical-fiction, Ghosts of Heaven is a tale is worthy of intense obsession.
---
I have to note that the number of reviews may have changed in the time since I wrote and scheduled this post.