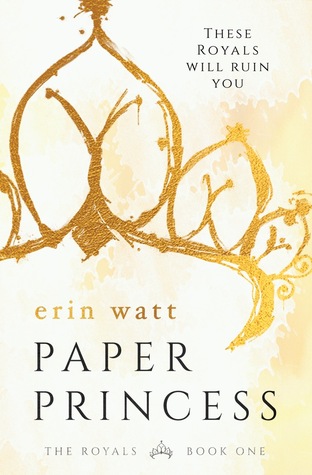 Paper Princess
Series: The Royals, #1
Author: Erin Watt (Elle Kennedy, Jen Frederick)
Publication Date: April 4, 2016
Genre: Young Adult, New Adult, Contemporary Romance
Note: I received this book from the author in exchange for an unbiased review.
Synopsis:
From strip clubs and truck stops to southern coast mansions and prep schools, one girl tries to stay true to herself.

These Royals will ruin you…

Ella Harper is a survivor—a pragmatic optimist. She's spent her whole life moving from town to town with her flighty mother, struggling to make ends meet and believing that someday she'll climb out of the gutter. After her mother's death, Ella is truly alone.

Until Callum Royal appears, plucking Ella out of poverty and tossing her into his posh mansion among his five sons who all hate her. Each Royal boy is more magnetic than the last, but none as captivating as Reed Royal, the boy who is determined to send her back to the slums she came from.

Reed doesn't want her. He says she doesn't belong with the Royals.

He might be right.

Wealth. Excess. Deception. It's like nothing Ella has ever experienced, and if she's going to survive her time in the Royal palace, she'll need to learn to issue her own Royal decrees.
---
★ ★ ★ ★ ★
---
Hey MTV, CW or ABC Family —  I think I found the book you need to base your next TV series on.
Seriously. Paper Princess was that good. The writing was fantastic and I was immediately hooked. It had complex characters, a great plot and such witty dialog. It was Young Adult pushing New Adult. I freakin' loved it.
In Paper Princess, seventeen-year-old Ella is struggling to make it after her mom's death. She's a high school student by day and a stripper at night. It's a tough schedule to maintain, but Ella has big plans for college and life.
All of her carefully crafted plans go out the door when Callum Royal shows up to claim guardianship of her. Ella's swept off to the Royal estate to live amongst the five Royal boys. What should be a dream come true is a nightmare. The Royal boys don't want Ella around. They're determined to make Ella's life at home and school a living hell. But Ella's been through worse and she's not about to give up without a fight.
The characters were so cool and perfect for this story. Ella was smart, resourceful and stood up for herself. I loved what a strong female teenage character she was! The book was so much fun to read because of her point of view and personality.
At first, I felt exactly the way Ella did about the Royal boys. They may have been hot, successful and popular, but man were they jerks! They knew how to make Ella's life a living hell. Reed was especially good at this, which was why I wasn't sure if I was going to be able to stand Ella falling for him. I mean, I know he was hot and making her lady bits tingle, but looks can only take you so far before your mouth ruins things.
But I loved Ella and Reed's connection. There was just something so raw and gritty about their chemistry. I'm not sure if it was the enemies to lovers aspect or the down dirty thoughts and actions of the two of them together. It so hot…and in an almost too mature to be YA way. They sizzled.
Back to the rest of the Royal men… Even though they were jerks, they started to redeem themselves a little. I was just starting to like Easton when the book ended. And I wish I had gotten to know the twins a little more because they seemed so deviously interesting. There has to be more to their story! Same with the eldest Royal boy. I need to know what his motivations are. I need to know more about ALL of these boys NOW!
My only complaint (not really a complaint) about this book was that it ended with a cliffhanger before I was ready to be done reading it. I didn't want it to end. 🙁 At least the next book comes out in July…
All that's left to say is that you need to read this book. Like now. I absolutely loved it and know other readers will, too. It's a crazy ride that will definitely entertain you and leave your begging for more.