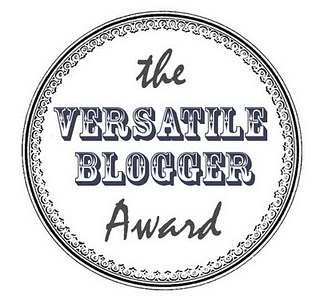 Thank you to Beth @ Reading Every Night for nominating me for the Versatile Blogger Award. I really appreciate it! Now, for the award.
Rules:
Show the award on your blog.
Thank the person who nominated you.
Share seven facts about yourself.
Nominate fifteen five blogs.
Link your nominees and let them know of your nomination.
---
7 Facts About Me:
I have way too many books on my TBR list right now. 12 that I have to read.
Now that I'm an adult, I like the school year more than summer. I'm horrible at coming up with things to keep my daughter busy during the summer.
I wish the NBA would bring back the Supersonics. I miss having a local basketball team to root for.
I played fastpitch (softball) growing up, but I can't stand to watch baseball now. Too slow moving.
The only countries I've been to other than the United States are Mexico and Canada. Evidently, I don't travel very far.
If I'm at home, I'm probably rocking pajama pants.
I used to love rollerskating when I was a kid, but now it scares the crap out of me.
---
I Nominate: