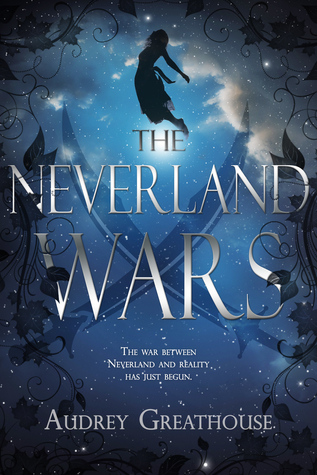 The Neverland Wars
Author: Audrey Greathouse
Publication Date: May 9, 2016
Genre: Young Adult, Fantasy, Fairy Tale Retelling 
Note: I received an ARC from the author in exchange for an unbiased review.
Goodreads Synopsis:
Magic can do a lot—give you flight, show you mermaids, help you taste the stars, and… solve the budget crisis? That's what the grown-ups will do with it if they ever make it to Neverland to steal its magic and bring their children home.

However, Gwen doesn't know this. She's just a sixteen-year-old girl with a place on the debate team and a powerful crush on Jay, the soon-to-be homecoming king. She doesn't know her little sister could actually run away with Peter Pan, or that she might have to chase after her to bring her home safe. Gwen will find out though—and when she does, she'll discover she's in the middle of a looming war between Neverland and reality.

She'll be out of place as a teenager in Neverland, but she won't be the only one. Peter Pan's constant treks back to the mainland have slowly aged him into adolescence as well. Soon, Gwen will have to decide whether she's going to join impish, playful Peter in his fight for eternal youth… or if she's going to scramble back to reality in time for the homecoming dance.
---
  ★ ★ ★ 
☆
☆
---
The Neverland Wars takes the reader on a return journey to Peter Pan's Neverland. Gwen, a teenager who would rather spend time telling her younger sister stories than wearing makeup, isn't aware magic exists in the world. When her sister goes missing, their parents are forced to tell Gwen that magic rules the world and her sister has been abducted by none other than the mythical Peter Pan. Gwen is completely shocked and extremely worried about her sister.
Gwen doesn't have much time to wallow in her fear because soon Peter and her sister have returned to fly Gwen back to Neverland with them. Gwen only goes to keep an eye on her sister, but finds herself enchanted with Neverland. But Neverland isn't the safe, happy place it should be. There's a war brewing between Gwen's world and Peter's Neverland. Soon, she's forced to make the decision to grow up in her world or stay eternally young in Peter's.
My favorite thing about The Neverland Wars was Audrey Greathouse's writing style. I was enchanted by her vision of Neverland. I could easily imagine what it looked like through Gwen's eyes. The descriptions were very vivid and really cool. The characters fit perfectly in this setting, especially Gwen with her hesitance to leave childhood behind. I also loved the way magic was woven into the real world setting. It was fun to read.
My least favorite thing about it was the war plot. With it being part of the title, it wasn't included in as much of the story as I expected. When it was, it just felt kind of thrown in. I never felt like the war was explained well enough. I also felt a little confused by Gwen's return trip home and the party at the end of the book. I couldn't tell if it was setting things up for a sequel or if Gwen's decision at the end was the end. That being said, The Neverland Wars was still a fun read.
Teenage fans of Peter Pan will like returning to Neverland in Audrey Greathouse's The Neverland Wars. It's a good, "clean" fairy tale retelling that can be enjoyed by ages.