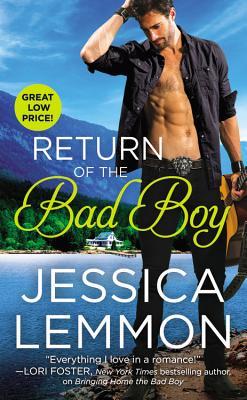 Title: Return of the Bad Boy
Series: Second Chance, #4
Author: Jessica Lemmon
Publication Date: April 26, 2016
Publisher: Forever
Genre: Contemporary Romance
Goodreads Synopsis:
He's a mess…

Asher Knight has three constants in his life: music, beautiful women, and a bottle of Jack. He lives for the next gig, the next city, and dreams only of a life spent in front of an arena full of screaming fans. But Asher's nomad ways come to a sudden stop when he learns he's the father of a three-year-old from a past relationship and suddenly this rock star bad boy is forced to put down roots.

Only she can clean up

Gloria Shields is no one's fool. Sure, the sexual chemistry between her and Asher has always been intense, but she'd never risk giving her heart to a man who has a perfect record for breaking them. Except the man desperate to make things right with his newfound son is nothing like the rock god she's guarded her heart against for years. And it isn't long before she starts to wonder if life with this bad boy might be the best thing that's ever happened to her.
---
Return of the Bad Boy was a little confusing for me at first. I blame that on the fact I hadn't read the first three books in the series. I'm guessing Asher and Gloria's past was introduced in them. But once I got past the first chapter and got what was happening, I was hooked.
Gloria has all the reason not to want to reconnect emotionally with Asher. Just when she was beginning to let him in, he broke her heart. Problem is, she can't keep her hands off him.
Asher knows he shouldn't have let Gloria run without knowing the truth, but he wasn't ready to settle down. Now, he's regretting that decision. A more mature Asher needs Gloria in his life. He wants her bad. He just has to prove to her that taking a chance on him is worth it. It would be a lot easier if he didn't have his baby mama around to remind Gloria of all the reasons she shouldn't trust him.
I loved the characters and dynamics of this book! This second chance romance was sweet and well written. Despite all of her insecurities, Gloria was a strong woman and was so much fun to read. I couldn't blame her for not being able to keep her hands off Asher. He was just the right mix of cocky and sweet. They had some serious chemistry. This book was so sexy!
Now that I've gotten a taste of this series and Jessica Lemmon's writing, I can't wait to read the rest of the series! Return of the Bad Boy is definitely a novel contemporary romance readers will love.